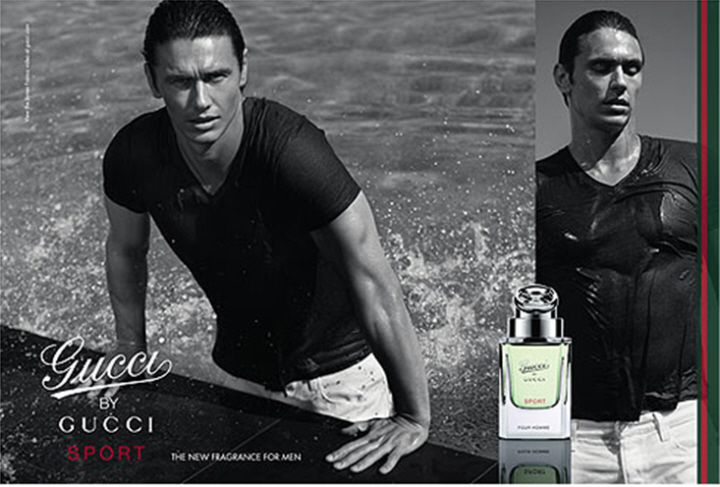 This is the new ad for Gucci Pour Homme fragrance starring James Franco, once again. What do you think of a delicious Franco all wet? I think… it needs more nipple. Why didn't they do it in a white t-shirt? Why isn't it bigger? Does Gucci smell like "Wet Franco"? By the way, I imagine "Wet Franco" smells mildly better than "wet dog". Here's more from People:
Following James Franco's good-natured spoof of his earlier Gucci Pour Homme fragrance ad campaign on Funny Or Die, the actor is officially back in front of the camera for the Italian luxury brand's newest scent, Gucci by Gucci SPORT pour Homme.

"James Franco is perfect for this fragrance and perfect for Gucci," the brand's creative director, Frida Giannini, tells WWD. "He personifies the sort of nonchalance and unforced appeal that is most attractive in a man. In the advertising campaign, he captures the fragrance's casual, modern and masculine air."

Shot by famed fashion photographers Inez van Lamsweerde and Vinoodh Matadin in Cannes, France, the new series depicts a very wet and chiseled Franco gazing seductively into the camera after a fully-clothed dip in a pool. The sporty fragrance, a mix of fresh citrus scents and masculine undertones like veviter, is available in stores now with products ranging from a deodorant stick for $27 to a 50 ml spray at $57.
[From People]
Last year, Franco even showed he had a good sense of humor about his Gucci modeling contract, and he did a pretty good Funny or Die spoof-voiceover bit for the actual Gucci commercial. I know it's old news, but it's still a funny video:
Oh, Jesus. He's got a mustache too now! Dammit, very few men can pull off this look and you're not one of them, Franco!
Gucci ad courtesy of People Magazine.