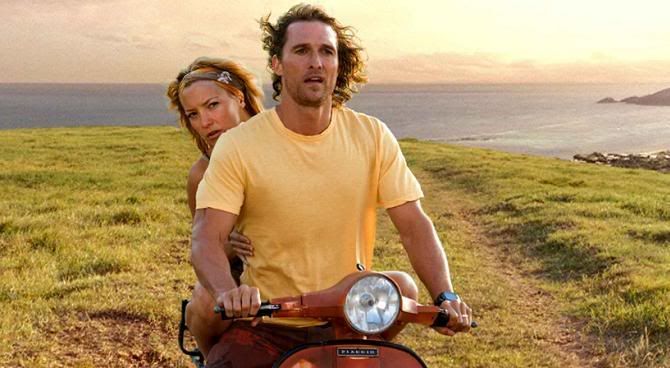 There's a new interview between Fools Gold co-stars Matthew McConaughey and Kate Hudson on Moviefone's website. The two stars of the new romantic comedy adventure ask each other questions written in by fans, and also come up with their own impromptu questions for each other. Matthew talks about his upcoming baby, saying he will be changing diapers and that the child will travel around a lot with him. Matthew asks Kate what her favorite drink is and she says tequila with tonic and three limes. In the middle part Kate talks for a while about how she had a normal upbringing despite her family being famous. She said she learned that you always have to have outside interests because the acting business is up and down and can't be all that's important to you in life, and that her son helps her stay grounded.
She then asks him a very interesting question about his greatest real-life adventure to date and who his favorite person to go on adventures with is. While Matthew doesn't talk about a specific person his answer is heartfelt and it comes off as deep and a bit moving. I'm a pragmatist and would usually not be moved by something like this, but McConaghey tells such a compelling story about how he dreamt about Africa and then took a trip there that transformed him. He says he was looking for a specific person that he never met before, and that he found that person and saw many different places that he had already seen in his dreams. After that, a lot of the anxieties he had in life were gone and nothing was ever the same.
That part takes a while to get to and I wasn't able to forward. It's about 6:45 into the video below, and I've transcribed it below if you can't watch or it's too long.
I'd say my best… I think my most favorite adventure was a trip I took to Africa in 1999 and then took it again in 2005, and it was because of a recurring dream I have had and that's what got me there. So after getting there and not knowing exactly where I was going to go I had one dot on the map and one person I was going to look for, who I'd never met. And I said I'll go find this person, and let the trip take me where it takes me. Well a month later, I did find him – the person, and the trip had taken me all kinds of places that actually were in my dreams so it was like I had the dream, then saw the places, so it was very clear to me that ok, I'd been there before… It was very clear, and there were some anxieties that I had in my life leading up to that point that were all of a sudden just – gone and I've never been back. That was fulfilling a part of a dream that I'd had.
[Transcribed from video available on Movies.aol.com and shown below]
While you may scoff at McConaughey and say it's due to the great herb he scored in Africa, it sounds like he had a spiritual journey that transformed his life. The way he told this story was so riveting and honest that you really believe him.
There are two bonus videos along with this one. In one Matt and Kate talk about how they both enjoy wine but aren't that knowledgeable about how to ask for what they want so they fudge it with the sommelier. In another Kate asks Matt who he would change places with for 24 hours if he had a chance and he kind of mumbles and doesn't want to say – but then admits that he wants to change places with his unborn baby! It's cute. Kate said she would like to change places with someone who teaches people how to skydive because it scares her and she doesn't know if she could have the courage to do that herself.
This movie isn't getting good reviews, but I love these two and I'd go see it. All these cute interviews are influencing me.
Header image is a still from Fool's Gold, thanks to Allmoviephoto.