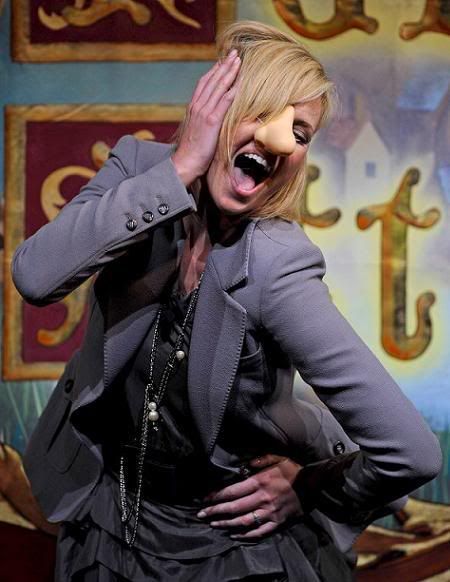 Boy Harvard sure is a popular place for actresses these last few days. Yesterday both Paris Hilton and Charlize Theron spent the day at Harvard University. Paris accepted her award as the Harvard Lampoon's Woman of the Year, while Charlize was given the slightly more prestigious Hasty Pudding Woman of the Year award. Neither actress attended college – or even graduated from high school – but both seemed to get a kick out of their respective honors. Since it's Harvard, I feel like I should spell it honours. We'll go fancy today.
So what is she going to do with her prize, the coveted Pudding Pot?

"I'm going to make a stew [in it], and then I'm going to eat it," [Theron] told reporters at the event, hosted by Hasty Pudding Theatricals (the nation's oldest collegiate theater group, known for burlesque musicals featuring cross-dressing men). "I'm going to look at it and remember today and how much fun I had."

Fun, indeed. Her Harvard hosts gave her apple cider – in honor of her role in The Cider House Rules – and, she joked, "I think it was laced with something, which made it much better."

Still, the actress seemed torn when asked which was the biggest honor, the Pudding Pot or her Academy Award for Monster. "I know you want me to say that the Oscar sucks and this is better," she said. "There are no men in drag at the Oscars like there are here. I've never been surrounded by so many fake breasts." Then again, considering Hollywood's penchant for plastic surgery, she added, "Actually, I think I was at the Oscars."
[From People]
Interestingly, Hasty Pudding has been giving the Woman of the Year award since 1951, but didn't start handing out awards to the men until 1967. Wikipedia notes that the awards are usually treated with great seriousness by the honoree, who always attends. Apparently a satellite feed is not encouraged. A parade is always given in the winner's honor. When John Wayne was asked to be the parade marshall in 1969, he somehow obtained an M-113 armored personnel carrier and rode it into Harvard Square. And he wasn't even Man of the Year. While Charlize Theron appears to have left all military vehicles at home, she did wedge herself in between two cross dressers for some lovely photo ops.
Here's Charlize at Harvard yesterday.