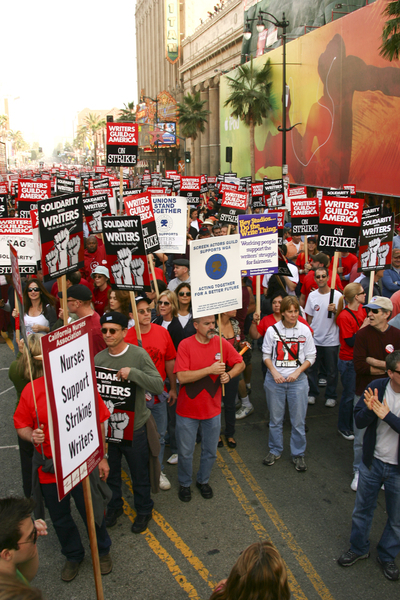 It's over! Bring on "The Office," "30 Rock" and "Dirty Sexy Money." Well, not so fast. Yes, the three-month strike by the Writers Guild of America (WGA) has reached a resolution. But reports are surfacing that we won't see the results of the agreement for at least another eight weeks.
A deal has been reached to end the Hollywood writers' strike, according to a U.S. media report.

"It's over," former Walt Disney chief executive Michael Eisner told CNBC. "They made the deal, they shook hands on the deal. "
[From The National Post]
The terms of the agreement have not been released, but the WGA has stated several times throughout the strike that they would only sign an agreement that gives TV and film writers a percentage of the residuals from DVD sales and Internet downloads of programs – a market that has been raking in billions of dollars and that producers, studio heads and actors already receive. However, Eisner did say that many of the media production companies, especially the smaller, independent ones, were expected to make some cutbacks in staff. He also said many of the writers who went on strike are unlikely to return to the same big-money contracts they'd had as individuals with the studios.
So, what's next for the writers– and more importantly, when do the "little people," such as film crews, production assistants and such, get to go back to work? Many industry insiders think the production process will start slowly.
Churning out fresh episodes of hit dramas and comedies after a lengthy production shutdown is more complicated than simply hitting the "power-on" button of a remote control.

Industry executives say it will likely take eight weeks to restore favorite shows like House, CSI, Grey's Anatomy, and Desperate Housewives to prime time once the strike ends.

Not all of the roughly 65 scripted series bumped off prime time by the writers' strike will come back this year.

With dramas and single-camera comedies unlikely to get more than six weeks on the air from the time they return until the end of the broadcast season in late May, network programmers have some tough choices to make.

Hits like CSI, House and Grey's Anatomy, are "no-brainers" to bring back this spring, one network executive said.

Lower-rated shows whose futures already were in doubt will either be placed on hold for possible relaunch in the future or be canceled altogether, in part because networks lack the time to build up marketing campaigns for them, he said.

Scripted series that come back will share the airwaves with many of the reality TV and game shows that have flooded the networks in recent weeks as strike-proof programming.
[From Stuff magazine]
The WGA has not issued an official statement saying they've accepted the agreement, but if Michael Eisner is talking about it, something must have happened. Hopefully everyone will be able to get back to work– and we will be able to watch some decent television before the summer hiatus.
Note by Celebitchy: This means the Oscars will be happening after all. They're set to air on February 24. The Vanity Fair Oscar Party has been canceled, though, so celebs will have to get wasted at another venue that night.
Photos are of the WGA march on Hollywood Boulevard on 11/20/07, thanks to PRPhotos.