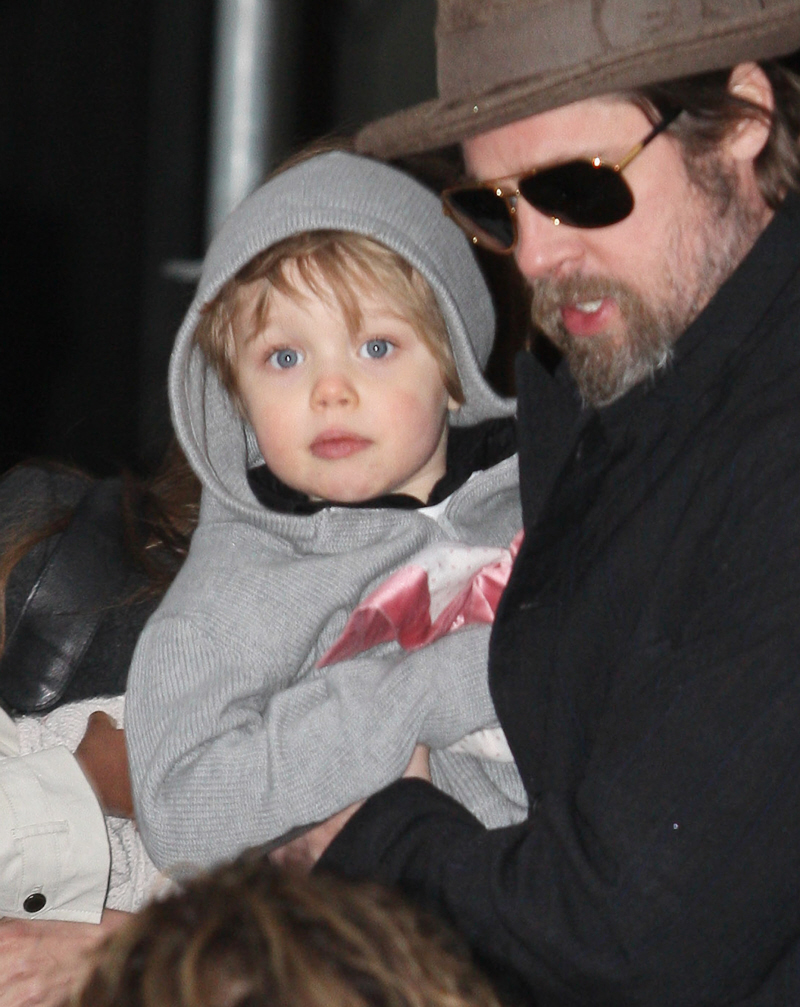 Brad, Angelina and the kids are back in Venice after spending last week in Paris, where Angelina seemed to filming exteriors for The Tourist, always clad in the same fabulous beige-and-cream outfit. Now that they're back in Venice – where Johnny Depp has arrived also – my guess is that most of the filming will take place there. But that's just a guess – God knows, they could be headed to Prague or Milan or Stockholm in a week for all I know.
Anyway, Angelina looks good, Brad looks filthy, Shiloh looks like Mystery child Fax, Pax looks like a cutie, and Empress Zahara is throwing the paps her classic "shank eye". Cute kids!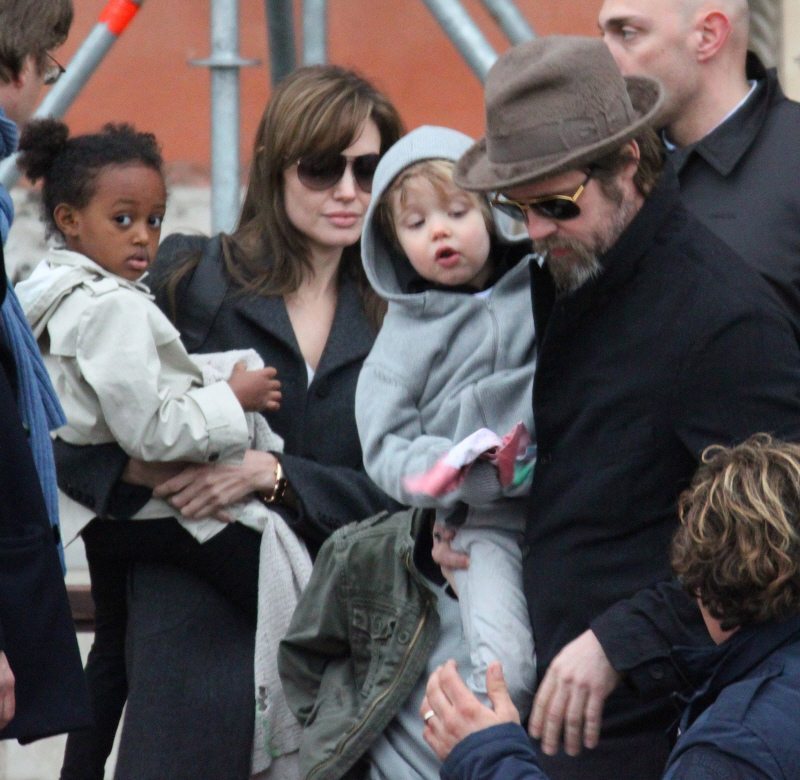 As for Depp and the Jolie rumors/tabloid nonsense, Fame Pictures did this rather epic photo montage, doing side-by-side comparisons between Depp and Pitt, Jolie and Vanessa Paradis, and even going so far as to insinuate that Depp and Jolie would naturally be attracted to each other because their partners are "rough looking". You don't believe me? From Fame Pictures:
All eyes are on the set of The Tourist in Paris, France, where the world's sexiest actors Angelina Jolie and Johnny Depp will collide and create a media frenzy of explosive proportions. However, it won't just be the star power causing fireworks but the looming shadow of scandal and supposed infidelity between the pulchritudinous pair.

Despite each having wonderful partners and children, some media outlets have envisioned an inevitable love connection that started the moment the two signed on to the film. Ongoing rumors of marital strife between Angelina and Brad and Pitt's recent rugged and ragged appearance have tabloids pushing for a catalyst for Angelina to end their relationship.

Depp has been very private about his love life to French singer/actress Vanessa Paradis but sources claim that femme fatale Jolie's fierce sensuality will leave Depp mad with lust and ready to leave his gap-toothed gal. Fame offers a side-by-side photo comparison of the 2 couples so viewers can draw their own conclusions about whether Jolie and Depp should ditch their rougher looking partners and join together in sensual bliss.
[From Fame Pictures]
Yikes, right? Who is writing for Fame these days, Danielle Steel?
UPDATE: CB just showed my this great Hello Magazine interview with Depp for Alice In Wonderland. CB and I were debating if it was a real interview, or if it came from a press conference, considering a few things sound similar to what Depp has already said, but I think it's a new interview. It's not online, it's just the print edition, so this is just me transcribing. When Depp was asked about working with Angelina, he replies: "I'm excited about it. I'd never met her before, but when we got together to talk about the film, I found her to be a treat, a real doll. She's serious about her work, but she also loves her man and loves her kids. I was impressed with that. The best bit about going to Venice and hanging out with Brad and Angelina is that I'll get to be photographed by the paparazzi, which hasn't been happening enough to me lately!"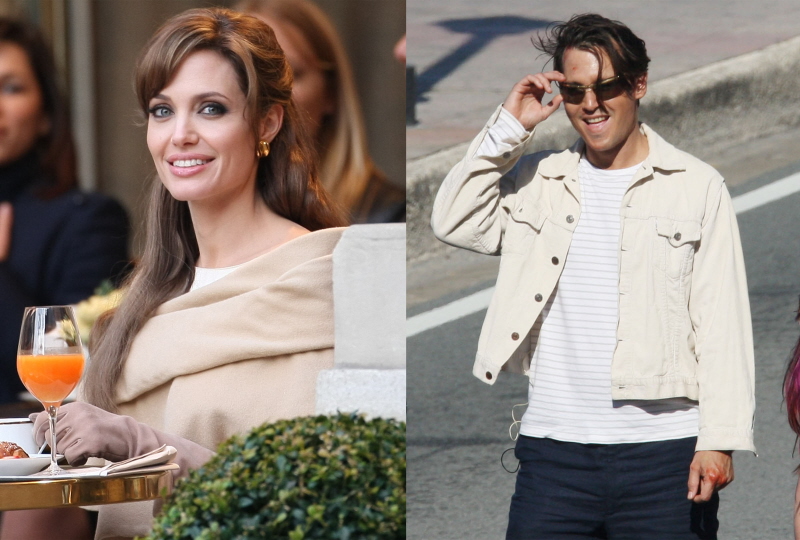 Brangelina & kids in Venice on February 28, 2010. Also, Depp in Venice on the same day. Credit: WENN. Fame Pictures provides the side-by-side comparisons.