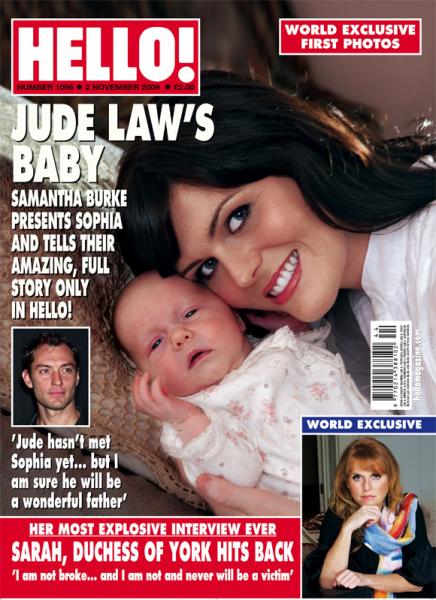 Jude Law has finally met his five month old daughter, Sophia, born after a week-long fling he had with a NY-based cocktail waitress who couldn't wait to confirm her pregnancy to the press. The baby's mother, Samantha Burke, sold the first photos of the tot for a reported $300k, and gave an accompanying interview to Hello! that made it sound like she was holding out hope for a reunion with Law. She admitted that Law had yet to meet the baby or send a present but said "I hope for him to be just as good a dad as he is to his three children by Sadie Frost…. He'll fall in love with her when he sees her."
According to The Sun, Law did finally meet little Sophia, for whom he acknowledged paternity back when Burke was pregnant. (They have a picture of the baby and she does bear a striking resemblance to him.) He did it in the company of lawyers, though, which makes it sound like more of a financial support agreement than the fatherly reunion that Burke was holding out hope for. Law flew down to Miami, Florida for the meeting. Burke now lives in Pensacola, Florida, with her family.
ALFIE star JUDE LAW has finally met his lovechild – with his lawyer in tow.

The actor, 37, flew to Florida last week to thrash out his role in bringing up Sophia.

Jude, who fathered the five-month-old baby girl during a fling with model Samantha Burke, met celebrity lawyer Maurice Kutner for six hours in Miami on Thursday, ahead of the summit.

Jude, who has rekindled his romance with Factory Girl star SIENNA MILLER, looked stressed arriving in Miami on Wednesday.

Asked if he was set to meet Sophia for the first time, he replied: "It's nothing to do with you."

Samantha, 25, her mum Lea and Sophia are staying at the luxurious Mandarin Oriental – a few hundred yards from the star's hotel.

On Saturday, Jude and Samantha – with two men thought to be her lawyers – were seen entering a local office block where their agreement is believed to have been sealed.
[From The Sun]
In January, we heard that Law had called Burke around Christmastime and promised to meet Sophia "within a few weeks." That story was in News of The World, which also said that Burke was of course hoping to rekindle her relationship with Law and that she was considering moving to London "for her career," and not necessarily to be closer to her baby's famous father. Now that Law is probably engaged to his on-again partner in skeeze, Sienna Miller, we can assume that there's no chance that he'll even go back to Burke for a free refill. He's not known for his sense of ethics, but he saw what happened the last time he hooked up with Burke and he'll be paying for it for the next 18 years.
Thanks to Oxa for the tip!