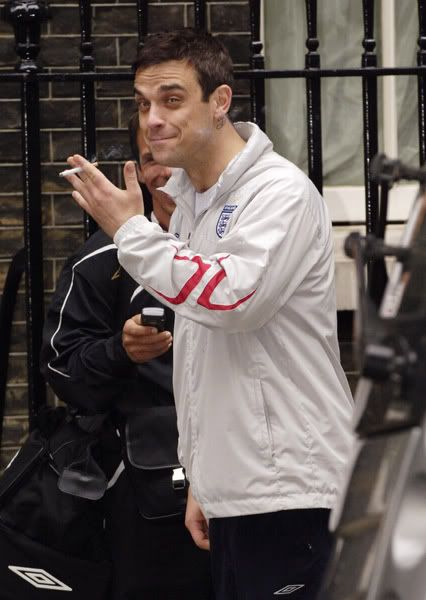 Singer Robbie Williams told everyone that he quit smoking in order to shape up for the British celebrity soccer tournament, "Soccer Aid." The Sun reported it on 5/21 as it was real news:
The star has been a 60-a-day man since he was a teenager.
Despite being teetotal and quitting drugs, the wicked weed is one habit he has not been able to kick.
But the prospect of his celeb England team taking on Gordon Ramsay's Rest of the World squad for charity has finally made Robbie chuck away the cigs for good.
Corrie star Bradley Walsh, who is on Rob's team, revealed: "We are calling him 'No Cigs Robbie'.
"He's taking this very, very seriously and will do anything it takes to win.
"And we will win. Gordon couldn't even beat us at swearing, never mind footie."
Ex-Take That star Robbie, 32, once confessed he would like to quit smoking — but was too scared of piling on the pounds.
He said: "The thing is, I'm a fat bloke inside this body and the minute I stop smoking, I'll get even bigger.
"It looks like I can't give up until my fame runs out. Then I can be a healthy Robbie Nobody."
Williams looks pretty gulty to be caught smoking outside the reception for the upcoming game yesterday. He must be more afraid of dealing with withdrawl and gaining weight than letting his team down.
"Soccer Aid" is a fund raiser for UNICEF. Robbie Williams leads the team for England, with the "Rest of the World" team lead by Gordon Ramsay. Teams match ten celebrities with six World Cup soccer greats. Argentinian football great Diego Maradona has joined the "Rest of the World" team. Coverage is on Britain's ITV (launches automatic sound), and Robbie's team won the first match last night. The final game airs on Saturday at 7:00 pm