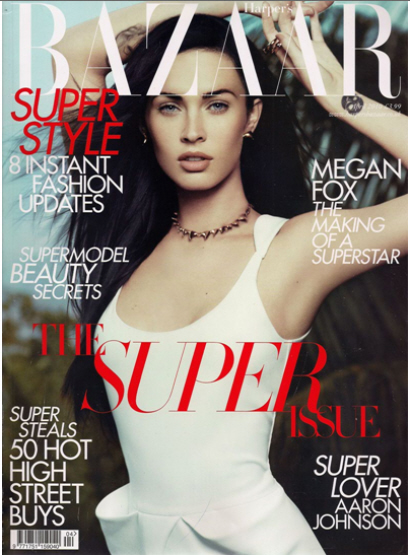 Here is Megan Fox on the April cover of Harper's Bazaar UK (nothing is online yet). It's not a terrible cover shot, and the additional Bazaar photos (courtesy of The Daily Mail) aren't bad either. The only thing that I've noticed about Megan – and I noticed this when I was looking at the photos from her W Magazine shoot - is that Megan never really "transforms" for a photo shoot. She's not a compelling subject matter. Either she looks "sexy" or she's just there, or both. Eh. As far as the interview, the biggest soundbite seems to be this: "I've only been with two men my entire life…My childhood sweetheart and Brian [Austin Green]." Now, personally, I believe her. I think she probably has been with only two men, quite honestly. But I think she's announcing it to be more like Angelina Jolie, who was widely reported to have claimed back in 2007 that she had "only been with four men." I'm just saying!
She's the sexiest starlet in Hollywood but that doesn't mean Megan Fox sleeps around, in fact, the sultry brunette says she's only had two lovers.

"I've only been with two men my entire life," she tells the UK edition of Harpers Bazaar magazine. My childhood sweetheart and Brian [Austin Green]. I can never have sex with someone that I don't love, ever. The idea makes me sick. I've never even come close to having a one-night stand."

Rather than hitting the party circuit, Megan says her life revolves around Brian and his seven-year-old son Kassius.

"I am a stepmother to the fullest extent. I have looked after Kassius since he was three and he has no memory of life without me.

"For some reason, no-one wants to look at me that way, but I am responsible (for him) and I've never struggled with that, from bedtime stories to the school run."

But in rare reflective mood Megan gets something else about her image off her chest: "My biggest regret is that I've assisted the media in making me into a cartoon character. I don't regret what has happened to me, but I regret the way I have dealt with it."

Megan's new movie Jonah Hex, a supernatural western features Josh Brolin and Michael Fassbender — as well as her first sex scene.

"I had on underwear and silicone covers that you wear over your breasts," she says. "My body parts are all I have left now that are only mine — the world owns everything else."

She admits her own sense of style is much more low key – although she does admire the style of other celebrities, in particular that of Rihanna.

"It would be nice to be like Rihanna and go to Burger King in six-inch heels and a mini-dress. It's admirable. But I don't have the motivation."

Starring opposite Mickey Rourke in a new serious film, Passion Play, and about to film the third instalment of Transformers, Fox says she is also looking forward to taking an even more creative path in her acting career.

"Really it's about reading and loving something. It's not about blockbusters or money. Sure, I'm tied into a franchise that makes so much money, but that means my other projects can be for love. From here on in, I want to make films that I want to watch myself."
[From OK! Magazine and The Daily Mail]
I think she's trying to change her image from what she perceives as the misogynistic view of "oversexed slut" to something more demure. But here's my question to all of you: do any of us really see her as an "oversexed slut"? I never disliked Megan because I thought or think she has too much sex, with too many men. I dislike her because I think she's a moron who should shut the hell up with her asinine statements like "I'm a borderline personality – or that I have bouts of mild schizophrenia." Or anything from this interview. Or when she compared Michael Bay to Hitler. That is why I dislike her. Not because she has sex. But she's too stupid to realize it.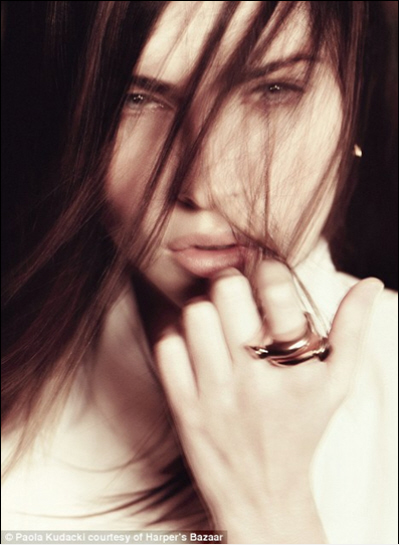 Harper's Bazaar cover and additional images courtesy of Popoholic and The Daily Mail.