That guy holding Sean Preston in those pictures last week wasn't the new nanny – he was Britney's producer, JR Rotem. OK! magazine says they're having an affair and that the baby may be his and not K-Feds!:
Pop princess Britney Spears is reportedly having an affair with her pop producer Jonathan 'JR' Rotem. Rotem, who recently scored a number one hit with a song he produced for Rihanna, S.O.S, has been "hard at work" with Britney over the past few weeks. Now it appears that they have definately been hard at work in the studio, but not in the way originally thought! Britney is even considering getting a paternity test once her baby is born later this year because she may be unsure of the father. A friend close to Spears said last night, "Britney is terrified. She doesn't want Kevin or her mom to find out. She's been really unhappy with Kevin recently." This comes as another blow to Spears, 24, who last week almost dropped her tot on the street. Britney married backup dancer Kevin Federline in September 2004. They already have a son, 9 month old Sean Preston, together.
If it's true that's great news for Britney, and the support from her new boyfriend should help her dump Kevin! She reposted that poem damning K-Fed on her website, and everyone is saying that it means she's ready to go public with the break. The two haven't been seen together in weeks.
Here she is with her new boyfriend outside of a Starbucks in Malibu yesterday. Look how he holds the door open for her!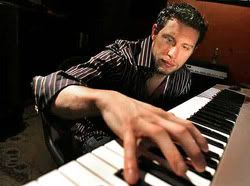 Update: Rotem is also working with K-Fed on his album, so it makes this a little harder to believe. Rotem has discussed Britney and Kevin's struggle with the hoardes of paparrazi that follow them and seems to feel sorry for the couple.
Also, I'm not sure it's Rotem in these pictures. Here is a picture of JR Rotem. Do you think it's the same guy? It could be an older picture of him. The nose and facial features are similar, but I'm just not sure.
Pictures [via]