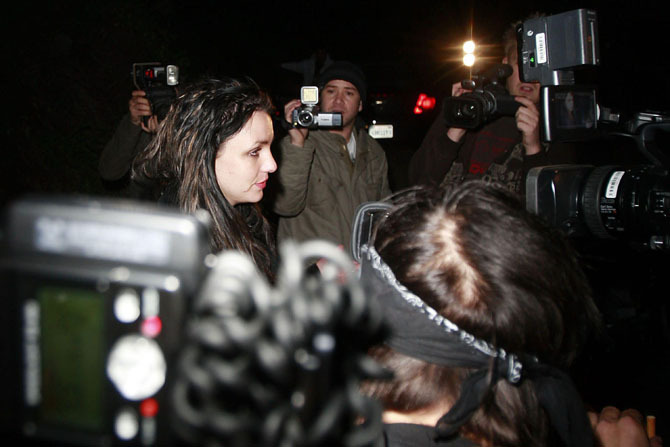 Some members of the paparazzi are actually giving up the Britney Spears beat. No, it's not because they've finally realized what a loser she is or their eyesight has been damaged from looking at her dirty, grubby face. Apparently the paps are actually afraid for their lives. Though they don't seem like a queasy bunch, some of the "less" scrupulous photo agencies have supposedly been giving cameras to members of rival gangs and telling them to follow Brit. The ensuing danger is just too much for the otherwise tough photogs.
More paparazzi are dropping out of the pack following Britney Spears because of the risk — to them. The legion of lensmen has been infiltrated by L.A. gang members — Crips and Bloods, according to some photo-agency heads. They claim rival agencies are arming the thugs with cameras and sending them out to do battle with the dozens of paps who rubberneck around Hollywood's favorite train wreck.

Veteran snapper Nick Stern, who quit the Splash agency this month, said: "I've heard stories of fights, of car tires being slashed, cars being blocked in." All of the agency heads we interviewed said they do not hire street toughs.

"Britney Spears attracts huge numbers of photographers, and whoever muscles their way to the front gets the best picture. They're not AP photographers wearing flak jackets, but that's not to say they're thugs, either," said Chris Doherty, owner of the INF agency, which got the first photo of Spears after she was sprung from the UCLA Med Center psych unit Wednesday. "We got it because we didn't follow the gang mentality."
[From Rush & Malloy]
At first I thought he meant mob mentality, because that would make sense in the context of paparazzi. But gang mentality is a whole different thing, and it seems like the evidence could go either way. While all the big photo agency heads say they don't hire gang members, several say things like what X17 owner Frank Navarre said: "They may dress like gang members with large pants and tattoos, but to say they're gang members right now, well, real gang members are not into Britney Spears." I think if you pay them enough they do. It's like he's saying, "Just because they dress like gang members and act like gang members doesn't mean they're gang members." I guess it doesn't matter quite so much what label you put on it – if people are acting like gang members, and gang members are known to generally behave in a dangerous manner – that's a problem.
Other paparazzi say they've given up the Britney beat because it's just too dangerous – but not necessarily because of gangs. They say Britney's own erratic behavior is dangerous for them. For example, she goes through a lot of yellow lights – which means they go through reds. She speeds, they speed. She's obviously not doing it to get away from them, considering how she courts the attention. She's just trying to up the drama – even when her kids are in the car. Britney's got a lot going against her right now – gang members snapping her photograph still aren't her biggest problem. It's interesting to see that the paparazzi was never too concerned when her life was in danger – but when their own safety is on the line, suddenly there's a big problem that needs to be addressed.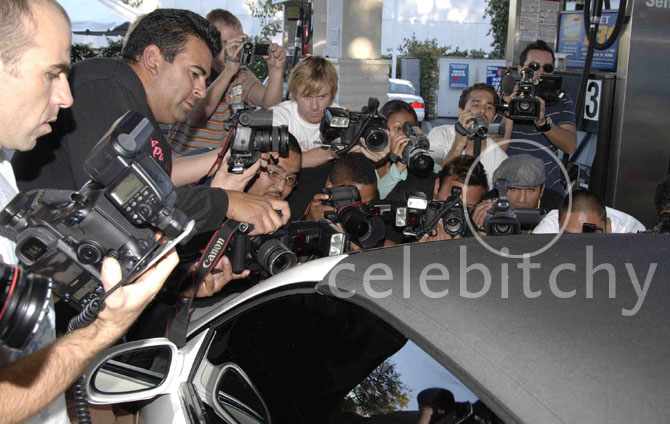 Photos are examples of just a small amount of the photographers that follow Britney around.