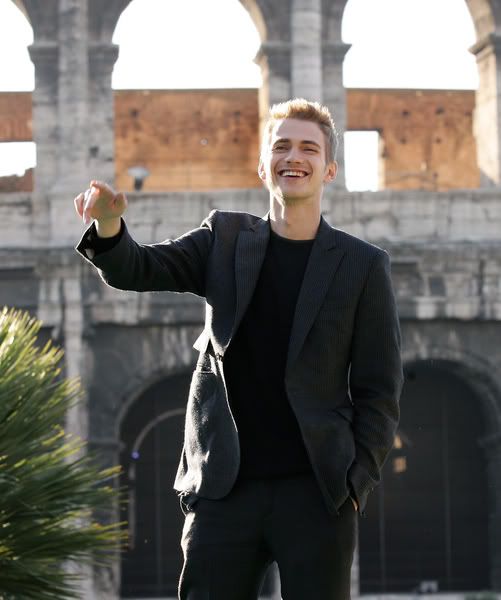 I really love laid-back, regular-folk type celebrities. The kind that go to the grocery store, take out their own garbage, and even move their own furniture. And while I hadn't really thought about it, I'm pretty sure that I also love dump-truck owning, pig acquiring, farm-living celebrities too – which is a good thing, because Hayden Christensen is all of those things. Owning pigs isn't that weird for a celebrity – George Clooney famously owned a potbelly pig, who was deeply mourned upon his death. Lots of celebs live on cute, trendy farms. But I'm pretty sure none of them own dump trucks that they use to move dirt around their property. And if they do, they must be hip enough to keep quiet about it. But Hayden Christensen is down to earth – literally.
Is it true that you own a farm?
I bought it for my family. It's just north of Toronto, and I spend some time there.

Do you do any chores?
You can't really classify it as a chore after you're 16 years old.

But do you milk the cows?
I don't have any cows to milk yet. Eventually. But I do a lot of the work myself.

How do you cut a hayfield?
There's a tractor that does the cutting. I can't actually take credit for the driving of the tractor, because at the time I didn't know how to do it. I brought in a farmer who did. But I got myself a tractor now, so next year I'll be all over it.

Do you need a tractor license?
Good question. Not as far as I know. But I could be wrong. I know you need a license to drive a dump truck.

How do you know that?
Because I have one and I don't have a license. That was a slight oversight on my part.

Why do you have a dump truck?
Because I have a farm.

Do you go around collecting the neighbors' trash?
I'm using it more for relocating dirt on my property.
[From Newsweek]
I've never lived on – or spent much time on – a farm, so I don't know if a dump truck is something everyone must have. It's funny that Hayden responds kind of like, "What an obvious answer." I myself prefer cement trucks for my random automobile of choice, but whatever, I won't judge. Hayden goes on to say that he has two pigs that live on the farm, named Buddy and Petunia. They're "house pigs" as he calls them, and says that they will not be used for breakfast. In fact as a result of Buddy and Petunia, Hayden can no longer eat pork. Apparently he and the pigs hang out and watch "Iron Chef" together. It's a funny thought, that someone famous who goes to big premieres also sits on the couch on their farm, watching TV with their pigs. Hayden's girlfriend Rachel Bilson wasn't mentioned in the interview – I can't help but wonder how the ladies take to the house pigs. Christenson did note that, unlike George Clooney, he does not sleep with the pigs in his bed. That's got to help the romance situation at least a little bit. Though it never seemed to slow George down any.
Hayden Christensen and the cast of "Jumper" at the Colosseum in Rome on February 6th. Images thanks to PR Photos.