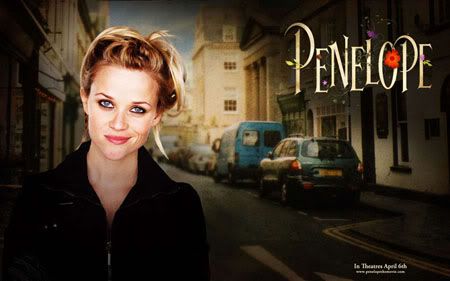 Reese Witherspoon is a marketing genius. She knows exactly how much to say in an interview without giving much away. Reese says "Yeah, my divorce was devastating, but I'm not going to talk about it" and you've got your headline, baby. "Reese says divorce was devastating'. Ta da. And the conversation goes back to whatever project the actress is currently promoting.
Reese is currently out promoting Penelope, her latest flick from her production company Type A, in which Christina Ricci plays a woman with a pig's nose. I'm not giving away any more of the plot, because I am dying to see this (I love Reese) and don't want to spoil it.
Reese spoke to E! News telling them she wants to shoot someone. That's headline-worthy right there.
Here's what she said about shoot-'em-up movies wherein the leading man gets to take down the bad guy. "Why does the guy get to shoot him? I want the girl to shoot him!" she said, laughing intermittently. "I love watching Angelina Jolie kick ass in Mr. & Mrs. Smith, and I can't wait to see her in Wanted. I would love to shoot someone. In the knee cap or something, just to stop them!"
I would really like to see Elle Woods (Reese's character from Legally Blonde) go crazy and shoot people. Elle, in a movie with Jason Bourne, where they go around shooting all her ex-boyfriends and members of her sorority. That is an instant movie classic.
Then, Reese told Good Morning America that she wants her kids to get bullied so they'll have the experience:
"I've had movies that were stinkeroos! And then, you know, I think everybody has experience of a being awkward. I was always really short and really underdeveloped and had big coke-bottle glasses … I think, that's where I got a personality from, though, man. I wouldn't give any of it back — not for a day."

Penelope has grown up not only dealing with the shame of her parents, but also with the ridicule of her classmates. Witherspoon sees this taunting as "formative" and says her own experience with failure has helped define who she is.

"I wouldn't want my children to miss out on any of that teasing and bullying and don't you think it kind of makes you who you are?" Witherspoon asked Connelly.

"This drives me crazy about today. Everyone wins the award and then, you know, everybody's an MVP? No! They're not! Okay? I distinctly recall the two weeks of crying because I didn't make the softball team. It made me interesting, you know?"
Gee, why don't you just put a couple of 'kick me' signs on their backs as you drop them off to school Reese? You don't think they're going to get picked on? All kids get picked on, and famous kids probably more so. Reese was actually talking about this in the context of her new movie, where the title character has a pig's nose and I suspect would get some teasing. And when I say 'some teasing' I mean 'relentless teasing'.
Then, she talks about paparazzi and her fear of a butt shot.
The mother-of-two admits the prospect of her bikini-clad bottom gracing the pages of tabloid magazines and internet sites around the world terrifies her.

Witherspoon says, "I hate that the paparazzi takes my picture when I'm on vacation: `Oh my god, did they see my butt? I hope they did not see my butt.'"
Which I totally sympathize with, because even the most bootylicious are afraid to see a photograph of their asses on the cover of a weekly rag.
Now this is all very cute and entertaining of Reese, and makes for good press, but what was the pink elephant in the room she was avoiding talking about? One was the death of Heath Ledger and her (unconfirmed) boyfriend Jake Gyllenhaal's reaction to it. The other was her husband's latest interview about the divorce and the other woman Abbie Cornish.
Way to go Reese. Penelope is in cinemas February 28th.
Note by Celebitchy: Here's the trailer for Penelope, it looks so cute!
And here are some stills from the film, thanks to AllMoviePhoto. Also shown are Christina Ricci, James McAvoy and Peter Dinklage. The last three pictures were taken in May, 2006 during filming. Spoiler Alert: The final picture below shows Ricci with her full face for the film, so don't look at that image if you would rather not spoil it before you see the film.