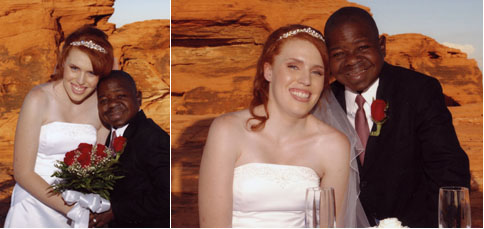 Gary Coleman got married, to 22-year-old Shannon Price, in a secret ceremony on her birthday after she proposed to him. The couple met on a film set in 2006, and married on August 28th of last year. Here's what they have to say about their secret marriage and the way they fight and can go a full week without talking to each other:
On their height difference:
Coleman, who is only 4'8" tall, admits that this is the first "romantic relationship" he has participated in. "I never got the opportunity to be romantic or feel romantic with anyone…I wasn't saving myself, she just happened to be the one."

Price, who stands over 5'7" tall, tells Inside Edition height was never a factor in their relationship. "He was ten feet tall to me because he was sweet and I really liked his personality. That doesn't really matter to me."

On the age difference:
Coleman says, "I don't have issues with age, I have issues with intelligence…She's more intelligent then I am and that's what matters to me."

Their courtship:
Price says, "He was really sweet and I didn't know who he was. I didn't grow up with Diff'rent Strokes. I actually didn't like watching TV when I was younger."

The wedding:
The couple married secretly on August 28, 2007 on a Nevada mountaintop after meeting on the set of one of Coleman's movies. The ceremony was extremely intimate. Coleman says, "Nobody was around but the minister, preacher, the videographers, the photographer, the helicopter pilot and us. That was all that was there. There was nobody else."

Price, who actually proposed to Coleman, tells Inside Edition he surprised her with their wedding on her 22nd birthday. "I didn't know that I was going to be in a helicopter ride and seeing the Grand Canyon and getting married in the Valley of Fire. I had no clue," says the blushing bride. "I mean I knew that we were getting married, but I thought it would be just a little chapel."

On the secrecy of their marriage:
The couple also shares the reason they say they kept their marriage a secret. Price says, "I just want my own identity as well because I don't want to be known as Gary Coleman's wife."

Her proud husband agrees. "I wouldn't want that in a million years. I wouldn't want you to be known as Gary Coleman's wife. I hope you do get successful. She's a great eBay-er. She's a fabulous eBay-er. I hope she gets famous for that."

The dynamic of their relationship:
Price describing the relationship as "off and on." "We may go a week and not speak to each other, but that's because you're thinking and mulling things over," says Coleman.

Price explains, saying, "Yeah, I've locked myself in a room and stayed there because I'm like, 'You know what? I don't even want to fight over this, its ridiculous." Price admits on several occasions the fights have gone beyond yelling. "He lets his anger conquer him sometimes, I don't like the violence, I really don't…He throws things around, and sometimes he throws it in my direction…He's got to damage something before his anger stops."

According to Price, she has had to call the police on several occasions. "He actually got a disorderly conduct ticket one time because we had gotten into an argument, just a minor argument in Provo. The guy gave him a ticket and he freaked out and he was on six months probation."
WTF!?!? I know that domestic violence is a very personal issue, and what people consider to be domestic violence can actually vary, but this is domestic violence, right? Just because he's throwing objects instead of punches doesn't change it. Not to mention feeling so frightened you're locking yourself in another room, you sometimes go days without talking, and you've felt the need to call the police 'several times'.
In the article Shannon says that Gary undertook anger management classes, but on the morning of the interview he smashed their fax machine because it wasn't working.
A secret wedding is also not a good sign. Shannon claims that she wanted to be seen as her own person, but fails to say what it is she does for a living besides selling Gary Coleman stuff on eBay. Was the wedding a secret because their families didn't approve?
If you are in a violent situation call the police. If the need is less urgent you can talk to your doctor, church leader or domestic violence service such as the National Domestic Violence Hotline. Don't hesitate to get help and get out.