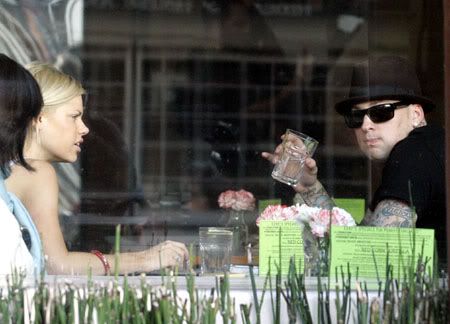 It seems that the Madden brothers, Good Charlotte rockers Joel and Benji, can really attract hot women. Firstly there's Sophie Monk, who is hot. I remember when she first came to the public's attention in the girl group Bardot (link leads to video) – she was steamin'. The band was lame, Australia's first fabricated band that was a complete Spice Girls rip off.
Now it seems, in bad news for single women everywhere, that she and Benji have split. The rumors first surfaced in December, and were denied by his rep, but now her rep has confirmed it.
"Sophie and Benji have officially split. The decision was mutual and they remain amicable," Kim's statement read. "This will be my only statement regarding this matter."
That's kind of sad. They met in mid-2006 and got engaged six months later. Amicable is the usual publicists' line, I think we can pretty safely assume that they have definitely parted permanently, not just ended their engagement.
However, things are going very well for Joel Madden and his sexy missus.
"It's really hard being away from her. I think after having Harlow we are already in love with being parents," he said. "It's cool to watch Harlow with Nicole because they already have a real special bond. It's cute. I have my own little bond with her too."

As far as Madden's bond with Richie, that's stronger than ever too. "She's a wonderful mother and she looks really hot already," he said. "The girl is gifted, man. Women hate her because she looks good being pregnant and then has the baby and looks sexy. There's something so attractive about her now. It's a motherly glow."
Aw, that's such a nice thing to say. Nicole does look really good post-baby, a lot better than she did pre-pregnancy. Of course, it just raises the bar for all the other mummies out there who are more slummy then yummy. And that, Joel, is actually why we hate her. It makes more work for us!
Us Weekly are reporting that Joel and Nicole have gone to four parties in two days, although it seems on they just went out for a couple of hours each night. They didn't even hire a sitter, but apparently relied on Grandma. Awww.
Picture note by Celebitchy: Benji Madden and Sophie Monk are shown out at lunch on at "Newsroom" in Beverly Hills, and heading to the parking lot afterwards. They definitely look like there's something wrong in these pictures, but I didn't realize until after I downloaded them that they're a year old, from 2/5/07. Sorry about that, I saw February and assumed it was this year. Thanks to Splash News for these pictures.