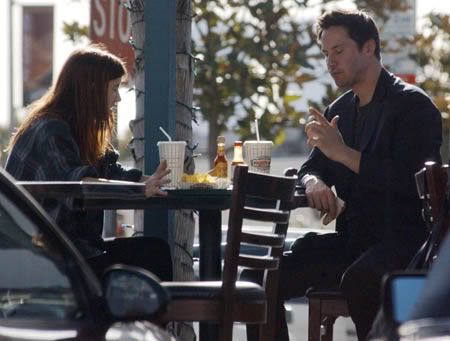 Photo is from December, 2007 and was not taken during the incident in question
Keanu Reeves pulled a Clay Aiken while dining alone in an expensive Vancouver restaurant. The millionaire actor took off his shoes and socks at the table to the horror of his fellow diners. A nearby couple scolded Reeves for ruining their romantic dinner with his rank feet, but unlike Aiken, Reeves was apologetic and left shortly afterwards:
Dining solo at a ritzy Vancouver restaurant, sleepy-eyed Keanu Reeves – slurping down oysters on the half shell with red wine – looked more homeless than hunky when he suddenly kicked off his scuffed shoes, pulled off his holey socks – then stretched and flexed his hairy toes as horrified diners gagged! After a few phee-eww moments, a man sitting nearby jumped up and said: "I don't care who you are – this is totally unacceptable behavior. I've paid a lot of money to eat here, and my wife and I don't want to look at your bare feet!" Keanu apologized, saying he had cramps in his toes and needed to stretch them. "If you don't put your shoes back on, I'll call the manager," snapped the guy. Keanu nodded, slipping on his stuff as he motioned for the check.
[From The National Enquirer, print edition, Mike Walker's column, February 18, 2008]
At least Reeves did the right thing and didn't make a fuss and apologized, but how did he think it was ok to take off his shoes and socks at dinner in the first place? I hate when people even do that on a plane, I think it's gross. At least put another pair of socks on over your stinky feet and keep them placed firmly on the ground underneath you.
Reeves will next work on The Private Lives of Pippa Lee, a film by writer-director Rebecca Miller. Miller is the daughter of playwright Arthur Miller and wife of Daniel Day-Lewis. The film also features Robin Wright Penn, Alan Arkin, Maggie Gyllenhaal, Julianne Moore, Winona Ryder and Monica Bellucci. Robin Wright Penn stars as a housewife who has a nervous breakdown and an affair with younger Reeves after she discovers her husband, played by Alan Arkin, was unfaithful. Cinemablend says the plot sounds complicated given all the talent that's involved. According to IMDB, the film will start shooting in April of this year in Connecticut.
Reeves stars as a police officer dealing with corruption on the force in Street Kings, a crime drama with Hugh Laurie that is out on April 11. It will be his first feature film since The Lake House with Sandra Bullock, which came out in June, 2006. He is currently filming The Day The Earth Stood Still, a remake of the classic 1951 film about alien visitation, which is due out in December of this year.
Keanu Reeves is shown hanging out with a young woman on December 27, 2007 in West Hollywood. It is thought that he was giving her career advice as she was taking notes and they were overheard talking about the movie business. Thanks to Splash News for these photos.