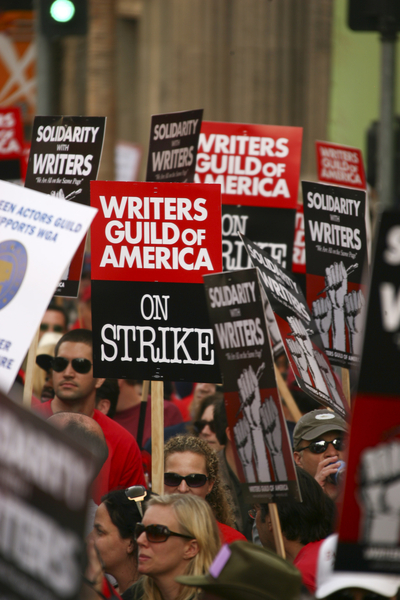 I now have no idea what I'm going to go on long and angry rants about. After a long and tempestuous three months, the Writers Guild of America strike has officially ended. Though they haven't formally accepted the tentative deal made by the Alliance of Motion Picture and Television Producers, WGA members voted yesterday to end the strike and return to work. I will most likely have to burn the sandwich board that I angrily wear around the house, as I now no longer have a cause. In happier news, we all have television again, which means we can stop reading, going outside, and talking to our kids – you know, those pesky things we did to fill the time we'd normally spend in front of the tube.
WGA members voted overwhelmingly to get back to work: 3,492 voted yes, 283 voted no. The most contentious issues between the WGA and the AMPTP was that of payment for digital media. Under the tentative contract (which WGA members have until February 25th to ratify via mail) writers will get a maximum flat fee of $1200 for streamed programs for the first two years the program is streamed and then 2 percent of the distributor's gross after that. They'll also get larger residuals on downloaded shows and movies.
Speaking of which, what will happen to our beloved shows?
The latest thinking on Jack Bauer's strike-interrupted season on Fox's "24" is that it will just wait until January 2009 to try again. Producers didn't want to present a fraction of the shows it had done without being able to present 24 in a row as usual. NBC's "Heroes," too, probably won't be back until the fall. But another handful of episodes will be shot to round out the shortened season of ABC's "Lost," which recently returned.

And some shows thought to be kept alive by the strike — airing episodes because there was nothing else to replace them with — won't be back at all, from "Bionic Woman" to the CW dud "Life Is Wild" and possibly "Cane" on CBS.

Other shows will wait to produce new episodes for the fall, including NBC's "Chuck," Las Vegas" and "Pushing Daisies," which has received an early pickup for the 2008-09 season on ABC. Three episodes remain for both "Samantha Who?" and "Dirty Sexy Money"; ABC will determine whether to run them this season or save them until the fall. Both also have been picked up for the fall season.

Comedies will be able to return to air the quickest with new episodes, in as soon as four to six weeks. NBC's "The Office," for one, had one script ready before the cast walked out at the start of the strike. The show hopes to have five to 10 episodes starting in April or May.
[From the Hartford Courant]
So it sounds like we'll get a little bit of many of the shows after all. It seems that the less established shows will essentially be starting again next year, while the older shows will briefly wrap up their seasons. There will be far fewer new shows next year, as the networks won't be making as many pilots. It's estimated that Los Angeles county lost over $3.2 billion dollars in the three months the writers have been on strike. The effects will trickle down into next year as well, but as of today, writers are back at work.
Update: Here's a list of all the big shows and when/if they're returning.