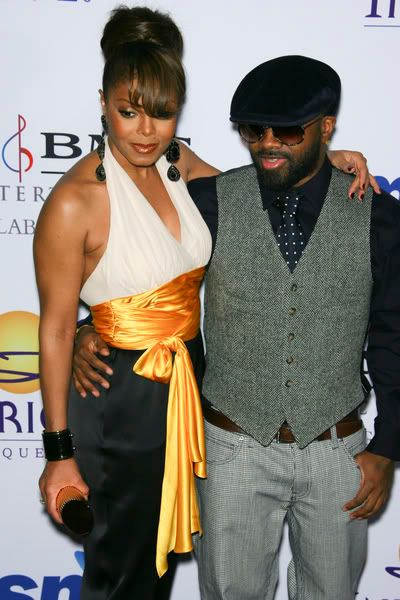 I really admire when a member of the Jackson family shows some restraint. Unlike her brother Michael, who's always itching for kids (no not in that way…. okay maybe in that way) Janet Jackson says that even though she's 41, she's in no rush to get married and have babies. Janet's been married twice before. The second time no one even knew about it until she announced she was getting divorced. And though she's been dating producer Jermaine Dupri for six years, she says they have no plans to get married, despite the pressure everyone's putting on them.
"So many people were putting pressure on [Jermaine], then they started pressuring me," the singer told The Insider. "Everybody would ask us about it – even friends. If it's [meant] to happen, it'll happen," she says. "I like where we are, and I'm happy where I am. I've done it twice before. I'm afraid I might be a jinx. I might be allergic to marriage." As for children, she admits: "We both would love to have kids. Someday I know it's going to happen. Exactly when, I don't know."

Even at 41, Jackson is not obsessing about her biological clock.

"I get so much pressure .. even my mother mentioned something to me the other day," she told Britain's The Observer on Sunday. "But now you can have your eggs frozen and there are all sorts of things you can do. I've still got time so I think I'm okay." The singer – whose new [CD] Discipline is out on Feb. 26 – added, "I've got to get a little more kid out of me first before I move on and be childish with my child."
[From People]
It's shockingly healthy to hear a Jackson say that they need to get some of their kid out before they have their own child. You know, instead of trying to relive their childhood in some bizarre Peter Pan complex like Michael's done. Janet has always seemed like the most normal Jackson to me. She's her original beautiful color, she hangs out with other adults, and once in a while she flashes a little nip. That's still better than anything you could ever say about Tito. Oh, and she has yet to name any kids Jermajesty, unlike her brother Jermaine. Considering how trendy babies are right now, I appreciate it when a celebrity says she's got other things on her plate.
Here's Janet Jackson and Jermaine Dupri at Clive Davis' Pre-Grammy party on February 9th. Images thanks to PR Photos.