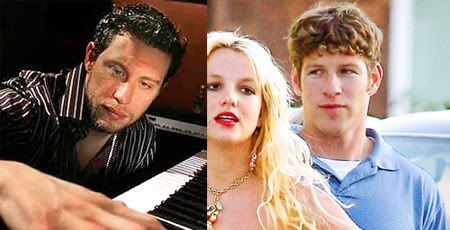 Britney has been seen out with a cute young guy toting Sean Preston around, and we breathlessly reported Thursday that she's rumored to be dating her record producer, J.R. Rotem, and this may or may not be him. The guy was named as J.R. Rotem in earlier pictures of the two out getting coffee last week. Some people are still saying he's the record producer, while most claim he's the manny:
Britney Spears and manny take Sean Preston for a stroll in the park on a beautiful day. Don't be confused, since many sources claimed her nanny was JR Rotem. He is in fact the help.
Lainey's Gossip says that it's Rotem and that he's so fond of Brit he's wearing the Baby Bjorn. They also claim Britney has a schoolgirl crush on her helpful producer, which is why she's been wearing bright red lipstick and making an effort with her appearance.
Fresh text message I received yesterday from a source in LA:
'notice how she's looking better? With the lipstick and everything? She denies but she is totally in to this guy, not to have an affair but it's something fun, like a crush at work. We are all pretty excited because Kevin is really mad.'
The 'guy' in question is apparently some music producer who has been photographed on a couple of occasions with La Brit, even going so far as to strap on the Bjorn which, as we all know, is a helluva lot more than what that KF*cker is capable of. As I hear it, she's like a girl who has developed a new distraction, something that gets her up in the morning. And this is accounting for her marginally improved appearance.
In the only pictures we could find of Rotem, he looks similar to Britney's help, but it doesn't seem like the same guy. Britney was also photographed in her car with a guy said to be Rotem on 4/24 – before she canned her old nanny – and his hair is darker than this new guy.
If that is really producer J.R. Rotem, he's hanging out with Britney a lot and is going above and beyond by wearing the Baby Bjorn. We doubt it's the same guy.
If that's the Manny, he's not observant enough since Sean Preston is chewing on a piece of paper in the pictures below.
As to Britney's crush/affair and to whom it's with – the truth may be somewhere in between. She's taking better care of herself, and it could be due to the influence of her new male nanny. She also has had more public appearances lately, it's spring, and she's recording a new album. She's ready to dump K-Fed and her dumpy self.
Britney has reportedly kicked her husband K-Fed out of the couple's California mansion. He hasn't been photographed with Britney in weeks, and she's been all over the place looking halfway decent with a new guy who bears a resemblance to her record producer. No wonder people say she's having an affair.
Thanks Millie!
Pictures are from May 25th and May 27th. [via] Only the first two pictures are high res.
Update: This manny's name is actually Perry, he's got a girlfriend and is not having an affair with Britney as far as we can tell, and you can read more about him here.
Related: