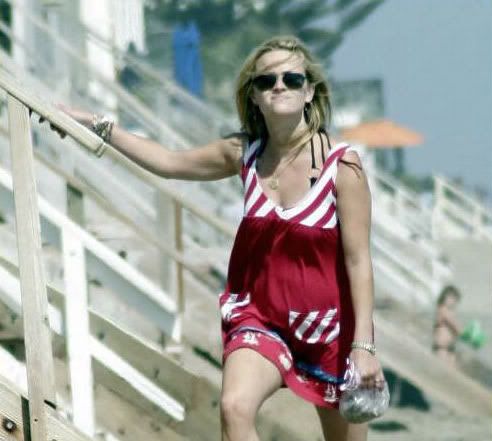 Reese Witherspoon, 30, and Ryan Phillipe, 31, have been married since 1999. They have two children: a daughter, Ava, 6, and a son, Deacon, 2.
After Reese won the Oscar for best actress this year it was reported that her marriage was in trouble due to Ryan's jealousy of her skyrocketing career. Reese denied that anything was wrong and made her relationship work through sheer willpower and feminine fertility.
In mid-March Reese was said to be trying for another baby to help save her marriage, and judging from these pictures things went according to plan. You can see a baby bump when the wind blows against this loose summer coverup she's wearing. When she's a little further along, she can be expected to acknowledge the pregnancy.
Thanks to Just Jared for posting these pictures of Reese and pointing out her baby bump. She is seen on the beach in Malibu with her daughter Ava, 6. Ryan is seen picking up takeout for his family.