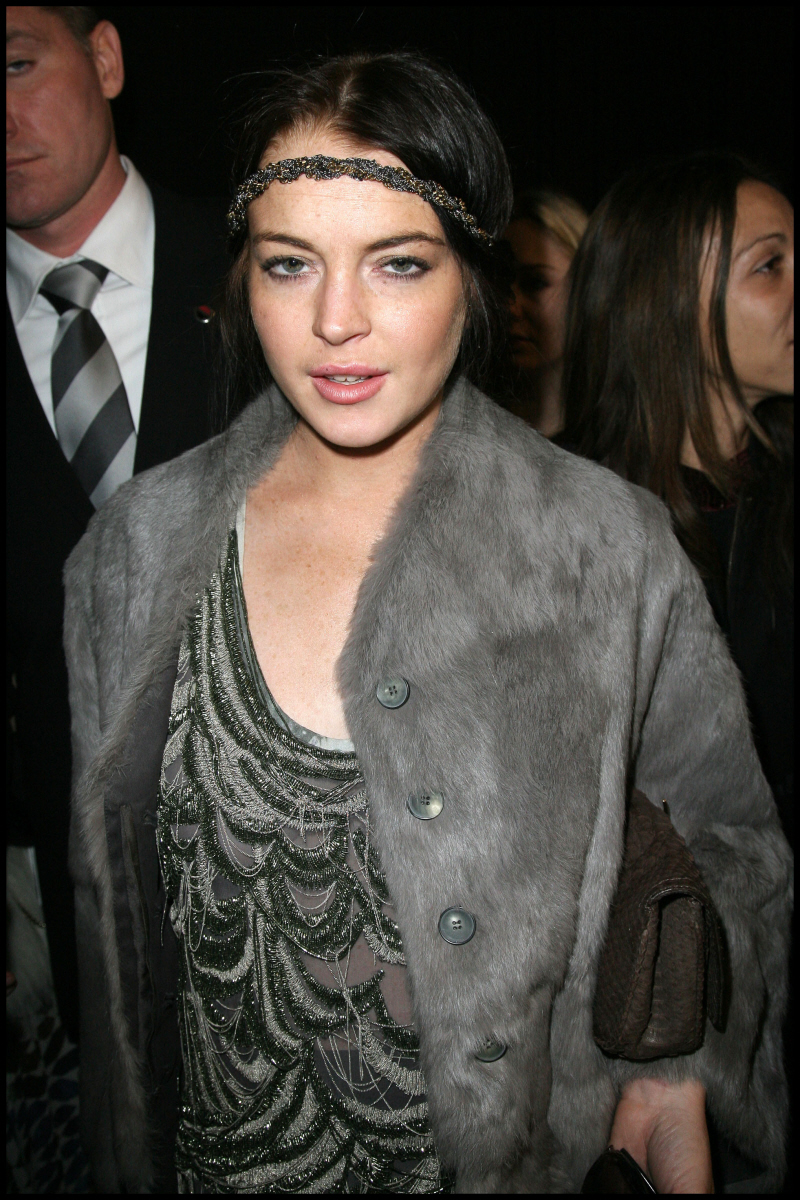 These are photos of Lindsay Lohan in Paris yesterday, attending the Kenzo fashion show. She's wearing fur, by the way. And she continues to look like she's getting the good sh-t in Paris. Anyway, it looks like the good sh-t might have made her totally delusional (or maybe not), because Lindsay has decided to sue E-Trade, according to a report that seems to have started in the New York Post. Apparently, Lindsay got pissed when she saw a new E-Trade commercial (below), one of those that feature talking babies. Anyway, the boy baby is talking to his girlfriend baby, explaining why he didn't call her. He's coming up with excuses (he was on E-Trade last night), and then the girlfriend asks him, "And that milkaholic Lindsay wasn't over?" It's pretty funny, actually:
Here's Gawker's take on it:
Lindsay Lohan has gone off the deep end of paranoid narcissism. A Super Bowl ad featuring talking babies that refers to a "milkaholic" named "Lindsay" is about her, she says, and she's suing for $100M.

Lindsay filed suit yesterday, the New York Post reports. Her lawyer explains, "Many celebrities are known by one name only, and E-Trade is using that knowledge to profit. They used the name Lindsay. They're using her name as a parody of her life. Why didn't they use the name Susan? This is a subliminal message. Everybody's talking about it and saying it's Lindsay Lohan."

"Subliminal message"? Is that a joke? Though it is my job to read and spread gossip, this is the first I've heard about the above party baby secretly representing the girl ocasionally known as Blowhan.

Then again, last time I thought Lindsay was punking the press, it turned out she really was starting a leggings brand inspired by Marilyn Monroe that sometimes featues built-in kneepads. Fame does terrible things to young minds.
[From Gawker]
How could a milkaholic baby named Lindsay be an allusion to our own precious Blowhan?!? I thought she didn't do drugs, right, Lindsay? But seriously, the commercial is so much funnier when you've got in your head that the baby is some sort of crackhead avatar. I mean, obviously, it's a baby, and babies doing crack aren't funny. Which is funny, because Lindsay is delusional. And it just goes round and round!
Although, I will say this, though – out of all the possible names to use for a "milkaholic" why choose "Lindsay"? Is there something there?
Lindsay Lohan in Paris on March 8, 2010. Credit: WENN.