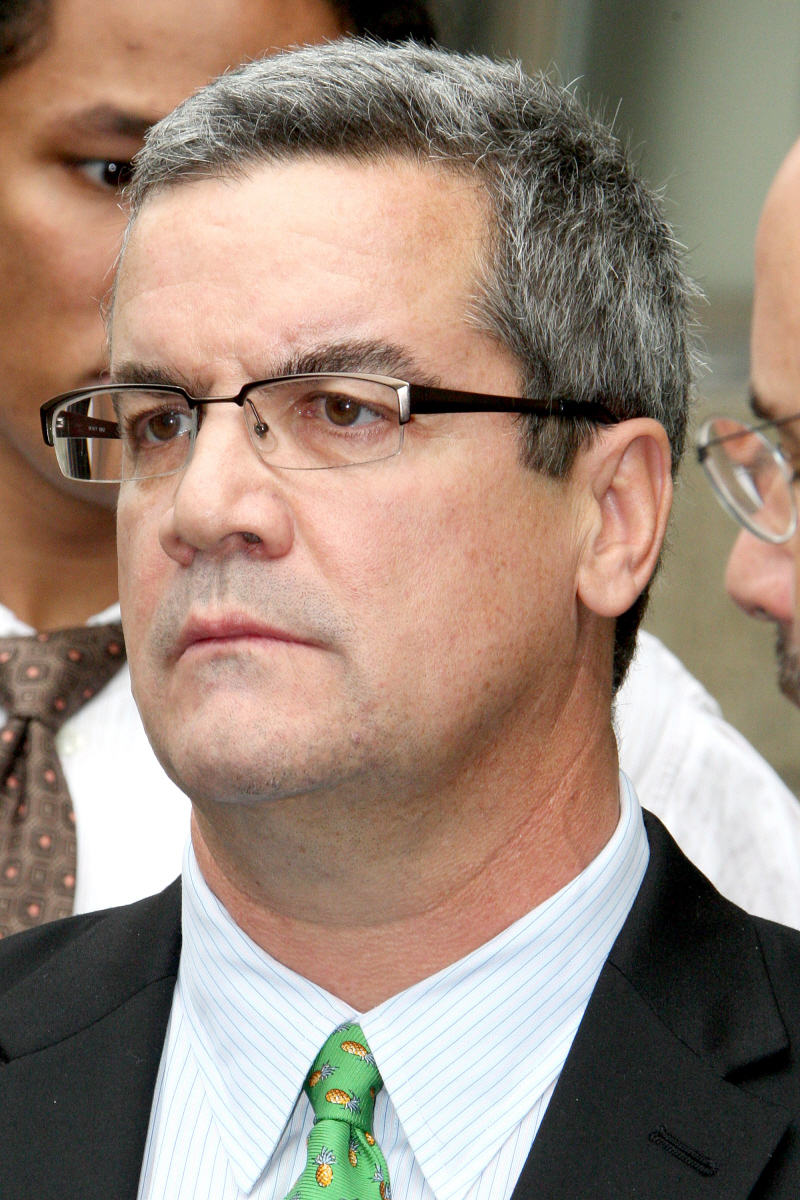 David Letterman's extortioner, Robert Halderman, has plead guilty to grand larceny for an attempt to blackmail David Letterman for $2 million last year. Halderman, a former producer at CBS News, approached the Late Night host last fall with a blackmail scheme in which he tried to sell a "screenplay" with salacious details of Letterman's affairs with staffers. Halderman's ex girlfriend, Letterman's former assistant Stephanie Birkitt, was involved with Letterman allegedly as recently as 2008. Dave made a statement on the air in October of last year that he was the victim of an extortion attempt and admitted that he'd "had sex with women who work on this show." The humor and grace with which he handled the disclosure helped thwart a lot of the gossip.
Details of other supposed affairs came out but none were particularly salacious and Letterman was not accused of sexual harassment. (Dave was technically single at the time, although he's been in a long term relationship with his wife of just about one year, Regina Lasko, since 1986.)
When Halderman plead guilty he read out a statement in court admitting to extortion. In exchange he received 6 months in jail and four and a half months probation. It's thought that Letterman pressed prosecutors to get jail time for Halderman. If Halderman discloses any of the dirt he has on Letterman, like personal e-mails, diary entries and IM chat logs, he could go to jail for seven years.
A CBS News producer who blackmailed David Letterman for $2 million is going away for six months – and his lurid tales of the star's sexual escapades will disappear forever.

A plea deal spared Emmy winner Robert (Joe) Halderman a 15-year prison term while saving the late-night host from more humiliation over his office romances.

The carefully crafted nine-page agreement announced Tuesday blocks Halderman, 52, from going public with any information he gleaned about Letterman.

That includes diary entries made by ex-girlfriend Stephanie Birkitt about her affair with the married Letterman, along with any e-mails, audio recordings or instant messages. If he even talks about it, he could go to jail for seven years – and his lawyer was ordered to remove the material from his computer hard drive.

"They were very protective of Letterman," said a source close to prosecutors. "They wanted to make sure he was not damaged in any way."

Letterman lawyer Daniel Horowitz acknowledged they were consulted on the agreement, adding that the "Late Show" host wanted jail time for Halderman.

In a scripted Manhattan Supreme Court appearance, Halderman admitted he presented Letterman's driver with an envelope marked "Privileged and Confidential" on Sept. 9, 2009. It contained a "screenplay" based on Letterman's sexual shenanigans with "Late Show" staffers.

"This so-called treatment was just a thinly-veiled threat to ruin Mr. Letterman if he did not pay me a lot of money," Halderman confessed.

"I feel great remorse for what I have done."

Letterman went to the police after receiving the envelope, earning praise from Manhattan District Attorney Cy Vance Jr.

"Mr. Letterman risked the disclosure of certain aspects of his private life," Vance said. "Like all New Yorkers, he has a right to a certain degree of privacy in his personal life."

Five months ago, Letterman was forced to reveal his dalliances during a "Late Show" taping hours after he appeared before a grand jury.

In exchange for the plea, Halderman will receive a six-month jail term. He will be on probation for 4-1/2 years and perform 1,000 hours of community service – 500 with the homeless and 500 with ex-cons.

He is free pending a May 4 sentencing.
[From NY Daily News]
Dave also made a statement on the air last night discussing the sentencing. He said, in part, that "The people in the District Attorney's office said, 'This will be handled professionally, this will be handled skillfully, and appropriately.' Well, the matter was resolved today, and they were exactly right – it was handled professionally, skillfully and appropriately." A lot of that is due to the way that Dave handled the crisis himself. By going to the DA immediately and disclosing the matter to the public he helped stave off speculation and kept the matter from becoming a bigger scandal.
Robert Halderman on November 10, 2009, credit: WENN.