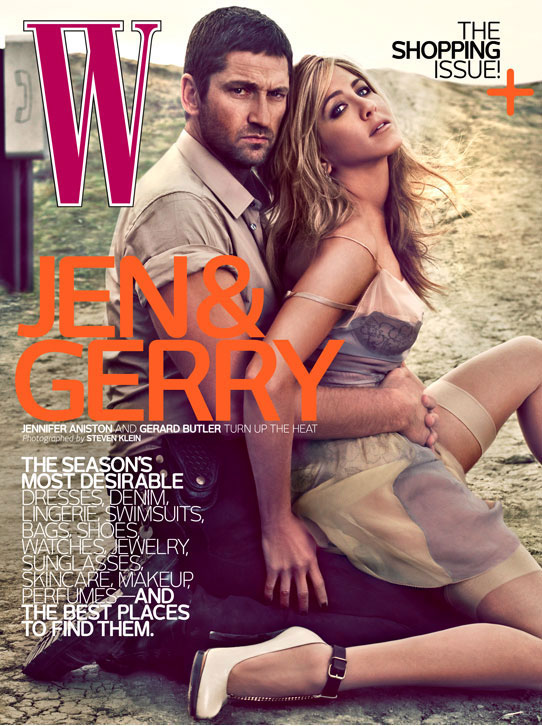 I've been waiting for this since Jennifer Aniston and Gerard Butler appearance at the Golden Globes in January – it was just a day after that touchy-feely date night that PopEater announced that the two of them had already photographed a dual W Magazine photo shoot and cover that would be "the raciest cover that W magazine has ever shot. Far more sexy than the famous Brad and Angelina pictures in bed" according to PopEater's source at the time. This would all be for promoting their film, The Bounty Hunter.
Basically the photo shoot is about a girl (Aniston, naturally) who is, like, a criminal on the run, with good hair and cash. A cop (Butler) like, stops her car and puts her roughly in the police car, without ruining her hair. At first glance, I was like, "Gerard looks damn good in that cop uniform" but as I'm looking more closely, he really doesn't. He looks weirdly like Tom Ford, right? And Tom Ford is really hot, but it's weird to see Gerry pull that face. Jen looks really cute in some of the shots, though. I like the heavy, dark eye makeup – that's a look we don't often see her styled with, and it's a good look for her. W Mag has a minimal slideshow (here), but I'm including all of the relevant photos. Here's more from People:
Jennifer Aniston and Gerard Butler have laughed off reports that they're romantically involved, but the Bounty Hunter costars sure look cozy on the cover of W magazine's April issue.

Shot on a ranch about 45 minutes outside of Los Angeles in mid-January, the 13-page pictorial featuring Butler and Aniston, both 40, consists of seven photographs by celeb shutterbug Steven Klein. Ironically, Klein also shot W's infamous July 2005 cover featuring Brad Pitt – who had then-recently separated from Aniston – playing house with Angelina Jolie.

For the April cover, on which hunky Scottish actor Butler wraps his arms around Aniston, the actress tapped into her inner fashionista and wore an Alberta Ferretti silk chiffon dress, Carine Gilson Lingerie Couture's silk bra and silk lace briefs, Stella McCartney garters and Lanvin shoes. Total retail value for her outfit? $3,800!

As for the inside pictorial, it's called "Speed Trap: Jennifer Aniston and Gerard Butler do a little role playing in the searing heat of the California desert where damsels aren't always in distress and lawmen sometimes break the rules." Hmmm … role playing?
[From People]
W didn't have any interview excerpts or anything like that, which makes me wonder if this is just a pictoral. Could be. W has done that before, so it's not beyond the realm of possibility. I was really expecting to hate this photo shoot, just because my expectations from PopEater were that Gerard and Jennifer were going to be trying to do a version of Brad and Angelina's 2005 W shoot, but I'm pleasantly surprised it's so different stylistically and "message"-wise. Although both were shot by the same photographer, Steven Klein. But he does most of W's cover shoots, so whatever.
My favorite is the one of Gerry shoving Aniston against the cop car. It's naughty.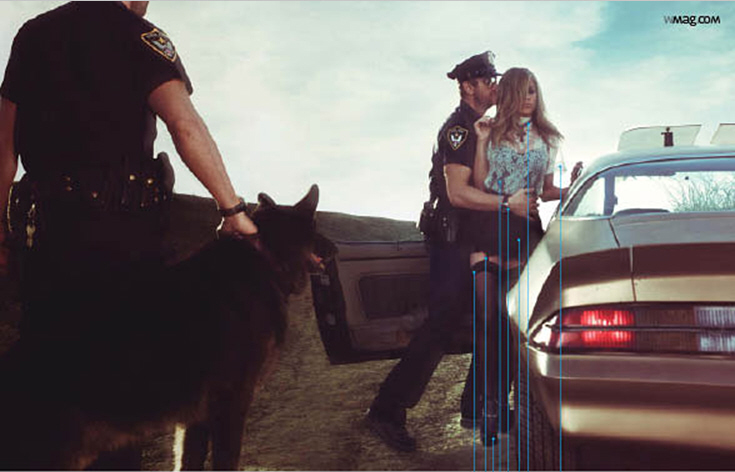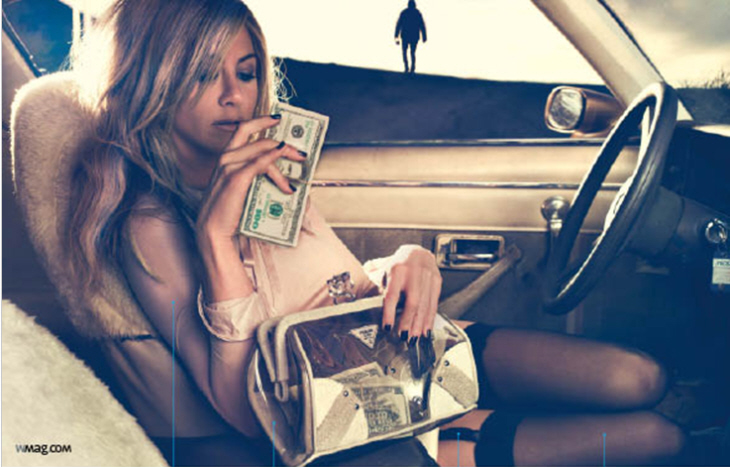 W Magazine cover and photos courtesy of W online.