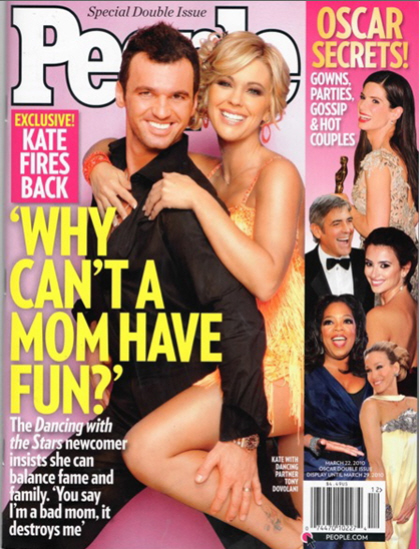 Oh, for the love of God. Kate Gosselin is asking all of us "Why Can't a Mom Have Fun?" on this week's People Magazine cover. Look, Kate, you know I don't like you and all of that, but seriously. Stop with the People covers every time you have a bowel movement. We get it. You're on Dancing With the Stars, and you've got a budget weave, and you're still "sexy" and you can still "have fun" and be a mom. Just stop talking about it. Give us a chance to focus on other people for a second. Like, you know, the people who have actual talent, like those Oscar winners that were shoved to the side of the People cover! Gah!
Anyway, People hasn't released anything from the cover interview, although I suspect it's the same rah-rah pro-Weave bullsh-t People has been feeding us for months. Oh my God, a mom doesn't spend every waking moment with her children, and some people want to burn her for that, and People rides to Kate's defense. Blah. But, Radar did have this interesting little story (if you're interested in budget weaves):
Hair's News! Kate Gosselin is getting ready for her debut on Dancing With the Stars and RadarOnline.com has learned that her stylist Ted Gibson is giving her a slightly new look, starting with taking her extensions out on Wednesday. The $7,000 hair-do Kate has been sporting is coming out, kids.

Kate will be hitting up the Ted Gibson salon on Wednesday and she'll be back to her famous short-do. But not for long.

"She'll have a new hairdo tomorrow because we're taking them out and we're not putting them back in until Thursday. So she'll have short hair for a day," Ted told RadarOnline.com exclusively.

And Kate will have multiple shades in her new hairdo. "We're actually doing three different shades of blonde, a caramel, a beige blond and a little bit of a lighter blonde," Ted exclusively revealed to RadarOnline.com.

"The extensions will last through the whole time she's on the show."

Kate is giving Jennifer Aniston's The Rachel competition for most famous hairdo in the realm of pop culture. Ted explained to RadarOnline.com the process for Kate's hair.

"We'll be doing color, we'll be doing extensions, we'll be getting her ready for her premiere on Dancing With the Stars!"

Ted said that Kate is a contender in the reality competition. "I think she has a good chance, I think people love to watch her, I think she's interesting," he told RadarOnline.com. " When she was here last week she said she been trying really, really hard at dancing and she doesn't feel like she's necessarily a dancer but I think she's having a good time and that's going to show, that she's having a good time."

"She's thrilled beyond belief," Gibson said about Kate's excitement for her Dancing With the Stars chances. "I think this is going to be really great for her." She is getting along well with her partner and Ted said Kate really likes Tony.

Ted has his own line of products and talked about the ones Kate uses on her new hair. "She loves Build It blow drying spray, she loves my daily shampoo which is called Daily Cleanse and a daily conditioner called Daily Nourish. She also loves hair styling sheets, she's a woman on the go, and it's a great product for styling or refreshing."
[From Radar]
So, Kate is throwing out the weave and going back to a shorter haircut. For a day. And then she's going to get newer (more budget) extensions put in. That's the gist of it, I guess. What people choose to care about, I have no idea.
My great fear nowadays is that CB is going to ask me ("force" me) to watch DWTS so I can report on Kate. Please, God, don't let it happen.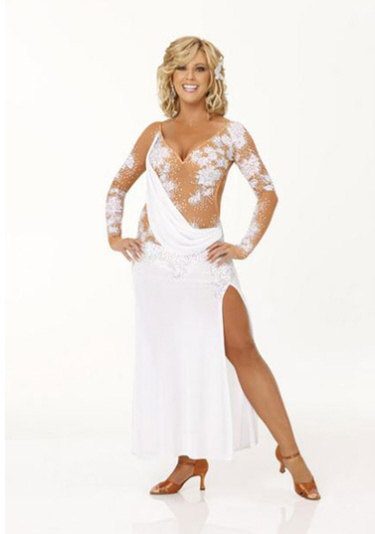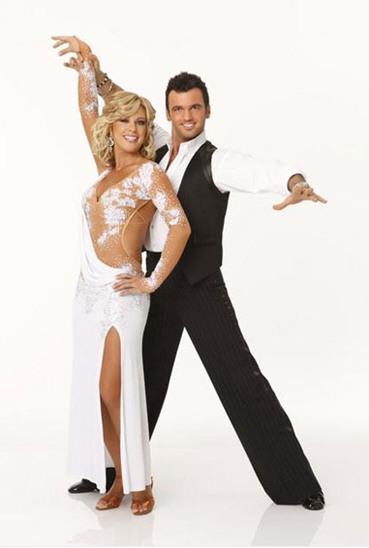 People Magazine cover courtesy of CoverAwards. Promotional images of Kate for Dancing with the Stars, courtesy of Radar.