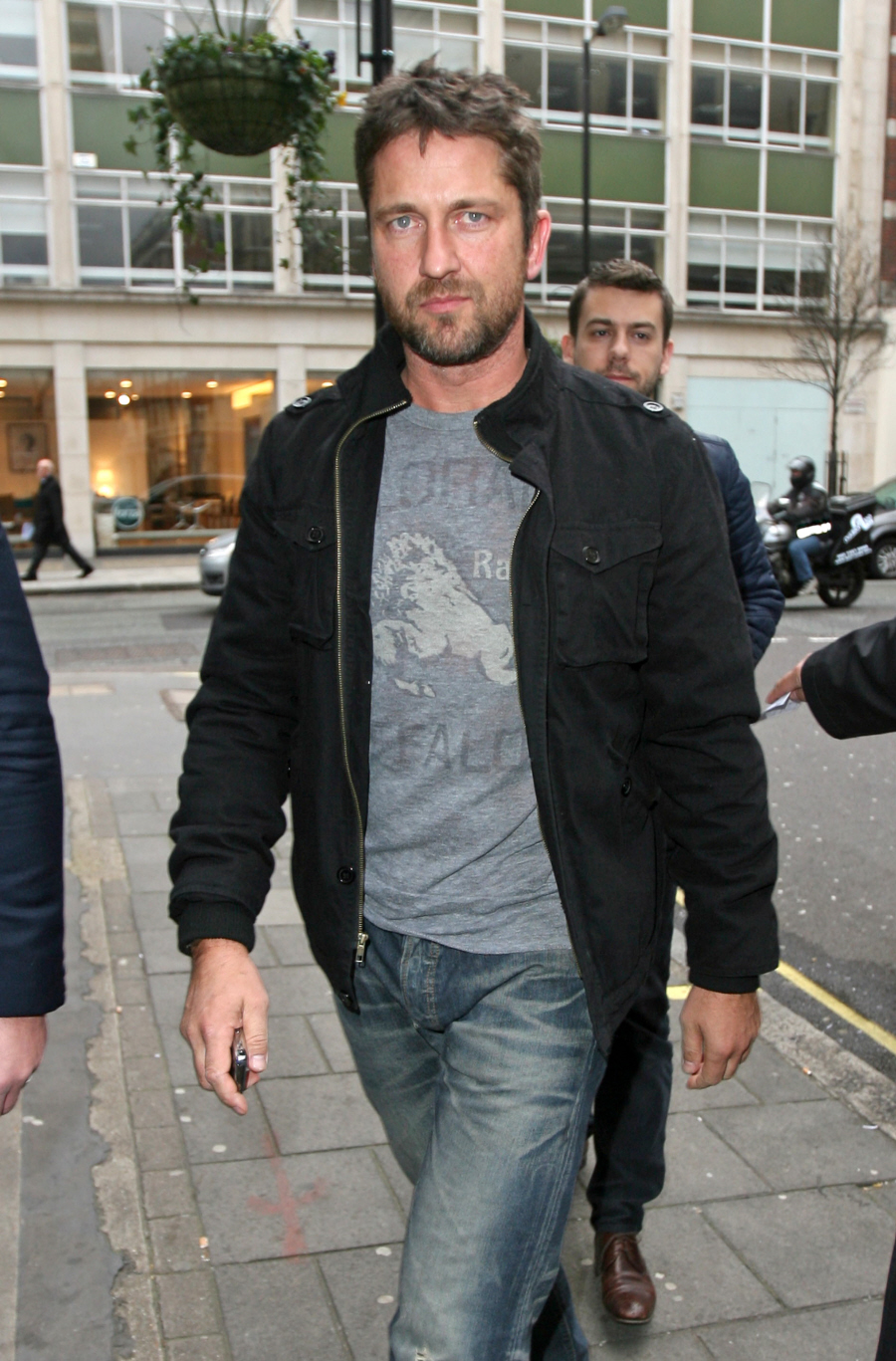 Well, hello, Sailor! Here's a lovely photo of a scruffy, dirty, naughty Gerard Butler in London earlier today. Damn, something about him is working in these photos – he's very sexy when he's not photoshopped into a Tom Ford-esque oblivion. Anyhoodle, this morning big reveal of the April W Magazine cover (jointly with Jennifer Aniston) isn't the only magazine appearance we can enjoy from our beloved raunchy Scotsman. He will also be the April cover boy for April's Men's Health Mag. I can't find the cover anywhere, which is fine. Because we have some stellar interview excerpts… including a very naughty one in which he jokes about Jennifer Aniston and "trimming her bush". Oh, you smarmy bastard!
Gerard Butler has revealed that he is such good friends with Jennifer Aniston that he once 'trimmed her bush'.

The Scottish actor made his cheeky comments in a US men's magazine and revealed the event happened at his Bounty Hunter co-star's Christmas tree-trimming party.

He said: 'Over Christmas [Jennifer] had a tree-trimming party that I went to. Yeah, I trimmed her bush.'

But he quickly backtracked, saying: 'Sh-t. Please don't put that in.'

The Law Abiding Citizen star, 40, who has been romantically linked to several of Hollywood's A-listers including Aniston and Lindsay Lohan, also revealed that he is still single and "not a big relationship guy".

He said: 'I think I get laid less now than I used to, because I'm way more paranoid now – look at f-cking Tiger Woods! I mean, I'm nowhere near as naughty as I used to be, partly because I did a lot of that when I was drinking.'

'I'm not saying I've cut that part out. I'm certainly no angel. There's no smoke without fire. But, here's the thing: while they're accusing me of that, I've probably been off somewhere else doing damage with someone else. I'm pretty smart like that. I know how to get away with these things.'

He added: 'In the last five years since coming out here, I've had two relationships. I'm not a big relationship guy. One of my vices is, I'm too wrapped up in myself and not always in a good way.'
[From Monsters and Critics]
Well… at least he's honest, you know? What you see is what you get. He looks like a man-slut because he is a man-slut. He's "not a big relationship guy," he's a "f-ck you four times in one night without knowing or caring about your name" guy. But isn't it interesting that he name checked Tiger Woods? Is the Tiger Woods drama Gerard's cautionary tale? Well, I have some good news for Gerry on that front: we would never be that pissed at Gerry for screwing everything that moves, because we know that's how he is, and it's not like he has a wife and kids. Oh, but I'll buy that Gerard probably has as many lovers as Tiger used to. Gerry probably doesn't remember their names, though.
Here's Jennifer after a fresh bush-trimming:
Gerard Butler in London on March 10, 2010. Credit: Bauer-Griffin.