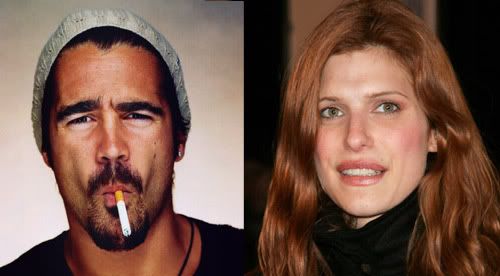 About six weeks ago, we reported that Colin Farrel was dating Lake Bell, 27, his co-star in "Pride and Glory," now filming. It seems that the relationship is going well and people are saying that Farrel is ready to marry Bell.
Colin Farrell is all too ready to get married.
The notoriously wild actor is reportedly ready to get hitched to his "Pride and Glory" co-star Lake Bell. The two have been dating for two months.
"Colin is a changed man since he went into rehab in December and he wants to find someone to settle down with," a source told the Irish Mirror. "In the last five years he's found it hard to settle down but he says that Lake has been his rock and he can't live without her." His rep couldn't be reached for comment.
Farrell just got sober and he turns 30 tomorrow. He has a hard-partying past and it would be surprising if the marriage lasted if he rushed into it after just two months of dating. He may be ready to settle down, but he should try a long commitment first. Not that we're discouraging Farrell – it would be pretty amusing to see him married with such little forethought.
Here are some pictures with Farrell out with what looks like Bell in the beginning of May. [via]