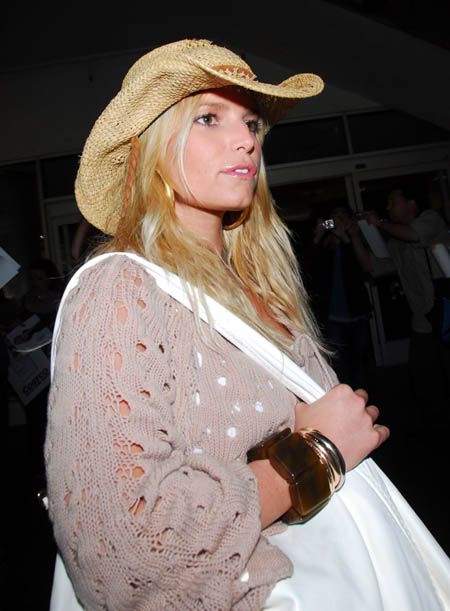 I guess life for Jessica Simpson just isn't worth living unless she has a camera in her face. The singer, who starred in the hit reality show "Newlyweds" on MTV along with her then-husband Nick Lachey, is currently entertaining the idea of coming back to TV with a new show on Country Music Television (CMT). "Newlyweds" pretty much revived Jessica's lukewarm singing career- at least for one album. But after the show ended, and Nick and Jessica divorced, her career went back in the crapper again. Now, with a new country album in the works, perhaps Joe – er, I mean Jessica – thinks she can boost interest with another show, but her rep insists that it is not a reality show.
Jessica Simpson may be returning to the small screen.

She is in talks with CMT to star in a special chronicling her life as she records her upcoming country album.

"We have had exploratory talks with Jessica's camp, but nothing has been confirmed or signed," a CMT rep tells Usmagazine.com.

Her rep tells Us it is "not for a reality show. Jessica is finishing her country album in Nashville. They're in talks with CMT for a special timed to air when the album is released, but there's no truth whatsoever to there being a reality show."

Simpson, 27, rose to fame on her MTV reality series Newlyweds, which tracked her day-to-day married life with Nick Lachey.

In a recent interview, her father Joe hinted that a reality show may be in the works.

"With Newlyweds, she let everyone into her world," her father Joe told Entertainment Weekly.

"Then she had to shut the world out. Now she can open it up again so people can see, here's a girl struggling with self-esteem and finding her way. Country music is about storytelling, after all."
[From Us Weekly]
Hey, guess what? I'm perfectly comfortable not being let into Jessica's world. Papa Joe and his daughter's rep need to talk, because they're saying two different things. Is it or isn't it a reality show? It sounds like the CMT program has a "reality show" component to it, something like that horrible documentary about Posh and Beckham coming to the U.S. Except, instead of Posh and Beckham, it's that stupid twit Jessica, eating tuna and thinking it's chicken.
Like I needed another reason not to watch Country Music Television.
Picture Note by Celebitchy: Jessica Simpson is shown at LAX airport on 2/11/08 after flying in with Tony Romo from a Hawaiian vacation. Thanks to WENN.