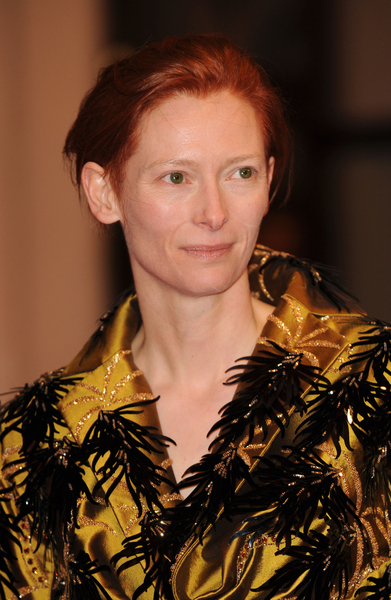 "Michael Clayton" and "Chronicles of Narnia" star Tilda Swinton has been enjoying an open relationship with the father of her children, playwright John Byrne, for quite a while. Tilda, 47, is living with Byrne, 67, with whom she has 10 year-old twins. But while she was filming "Narnia," Tilda met 29-year-old Sandro Kopp, an actor and artist. She was very attracted to him, and with the blessing of the father of her children, Swinton now divides her time between the two men. Tilda takes her younger man with her to movie shoots, premieres and awards ceremonies, and even brings him to the home she shares with Byrne and the children. Apparently, Tilda's live-in man isn't so pleased with all the attention their arrangement has been getting.
If you didn't have a Valentine Thursday, then perhaps you can blame Tilda Swinton: The greedy swine has two.

The Academy Award nominee is expected to attend the ceremony next weekend with her new guy, German artist Sandro Kopp, 29. Swinton, 47, played the White Queen and he a centaur-extra in 2005's "The Chronicles of Narnia."

But the ethereal British actress is also still with John Byrne, 67, the father of her 10-year-old twins, Honor and Xavier.

Swinton attended Sunday's BAFTA awards – the British Oscars – with Kopp and her kids. Then they all went back to the large house she shares with Byrne in Scotland, where he greeted them at the door.

Questioned by a reporter about who gets the bedroom in that arrangement, Byrne growled, "I wouldn't encourage you to ask anything like that."
[From the NY Daily News' Gategrasher]
Byrne has also been quoted as saying that he and Swinton are "the best of chums" and that, "We love our children and our children love us. The rest is business."
Open relationships fascinate me. On paper, they sometimes seem like they could really work for everyone, but I've rarely seen it happen in real life. Somebody always ends up getting hurt– after all, these are human beings we're talking about. It doesn't sound like Tilda's live-in man is all that enthusiastic about the arrangement, but doesn't want to lose his partner or break up the family. And Tilda? Well, she's got the solid, older man at home taking care of their sons, and the yummy younger man to travel the world with. Sounds like a plan to me. But who knows how long it will all last?
Picture Note by Celebitchy: Tilda Swinton is shown at the Bafta Awards on 2/10/08, thanks to PRPhotos. People say how great it is that she's an original and everything, but would it kill her to wear some makeup?