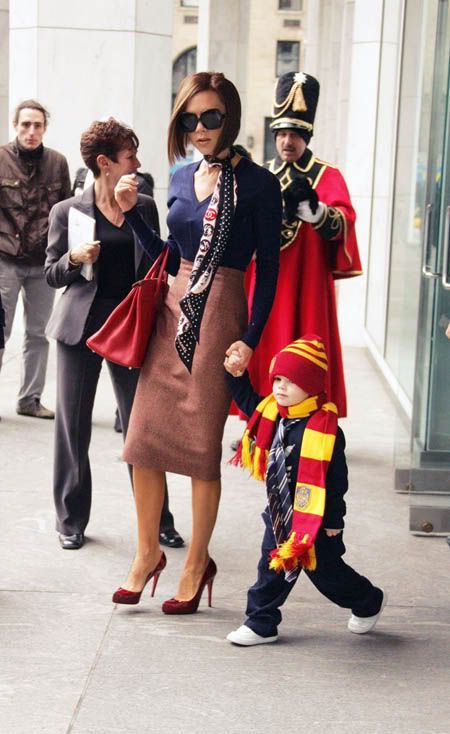 Three-year-old Cruz Beckham, the youngest son of Victoria and David Beckham, rocked the house at NYC's Madison Square Garden last night. The toddler joined his mother and older brothers on stage during a Spice Girls concert, and busted a few breakdancing moves for the delighted crowd. During a song paying tribute to mothers, all the Spice Girls brought out their children, and little Cruz was more than happy to upstage his famous mommy and her friends:
They cancelled their tour supposedly to spend more time with their children.

So it was more than a little ironic that The Spice Girls were upstaged by an amazing display of breakdancing moves from little Cruz Beckham.

The youngest Beckham boy, who will be three tomorrow, charmed the notoriously tough crowd at Madison Square Garden with an amazing display of breakdancing, revealing a hidden talent for the crowd pleasing moves.

Even Spice Girl Melanie Brown, mother of Angel Iris and Phoenix Chi, was amazed at his spontaneous performance and she had to stop singing as she laughs out loud in amazement and says "that's brilliant" as proud mother Victoria looks on smiling.

A lucky concertgoer who saw the three-year-old in action told PerezHilton.com: "All the girls had to stop singing because they were laughing so hard…He did a little head stand, then even spun on his head a little.

"They couldn't get him off the stage when the song was over. It was the most adorable thing I've ever seen!!"
[From The Daily Mail]
Maybe Cruz has a future in show business like his parents. It sure looks like he loves the spotlight. I also think it's funny that he never seems intimidated by the paparazzi when he goes out with his parents. He does seem a lot more mature than the average two-year-old– I've seen him in pictures before when traveling with Mommy handling his own luggage! He seems like a fun kid. All the Spice Girls' children are adorable. I can see why they would rather end the whole Spice Girls thing to spend time with them. In the photographs from that show, it's notable that Cruz's older brother, Brooklyn, who is now 9, looks bored out of his mind. Oh, well– not everyone is born to be onstage.
Note by Celebitchy: Here's the video. Little Cruz is shown breakdancing about about three minutes in. Cruise is officially just two, but he turns three on his birthday tomorrow.
The header image is of Cruz out with Posh on 2/9/08, thanks to WENN. (We don't have the rights to the breakdancing or concert pics, but they're on The Daily Mail if you'd like to see them.)