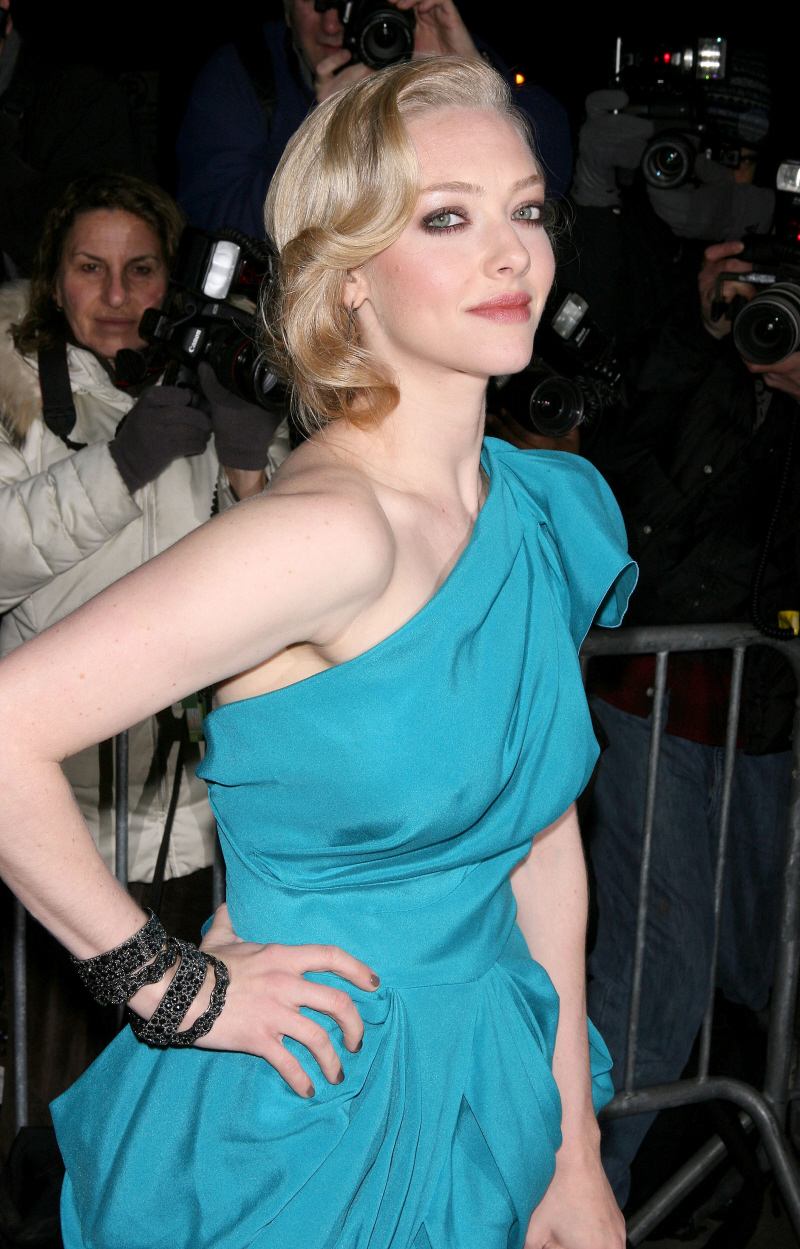 Here are some new photos of Amanda Seyfried and Julianne Moore at the New York premiere of Chloe, their sexy drama also costarring Liam Neeson (who did not attend the premiere). I actually love Amanda's dress and her whole look. I'm not so in love with Julianne pink dress and black tights, but she looks so much better now that Tom Ford isn't trying to dress her garbage bags so she won't steal Colin Firth's thunder. Anyway, the basic plot of Chloe is that Julianne and Liam play a married couple, and Julianne fears her husband is having an affair. So she hires a hooker (Seyfried) to seduce Liam's character as a test. Sexy shenanigans ensue. Here's a little more from a Seyfried interview: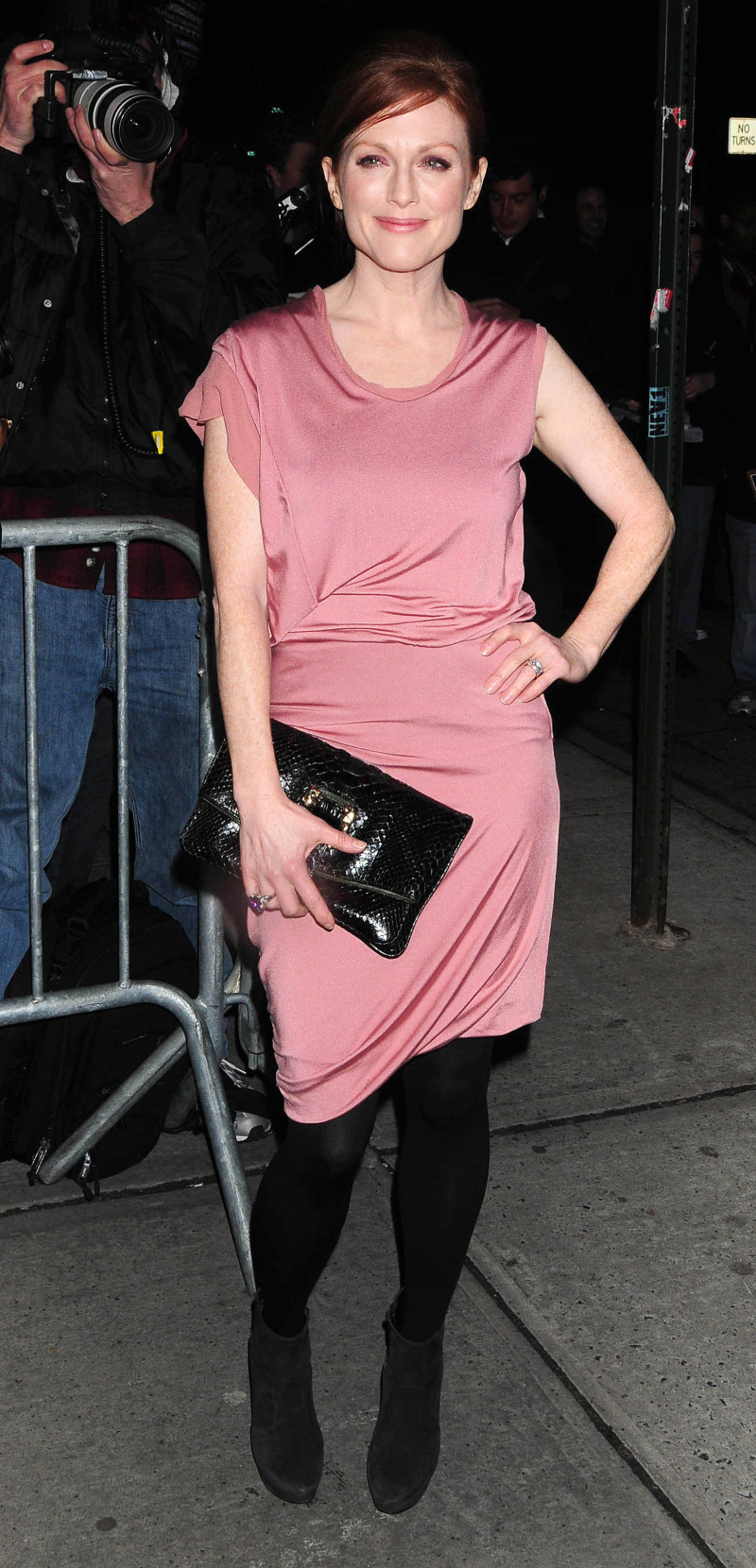 "It's a character that wouldn't come up very often for a person my age," says Seyfried, promoting the film at a recent roundtable with reporters at the Four Seasons Hotel in Beverly Hills. What will her fans make of her switch to such a dark-side role? "Hopefully they will see me as an actress, rather than just a sweetheart," she says. "I think 'Chloe' is going to raise the bar a bit," adding, I hope it's a turning point."

Approaching the role of Chloe, Seyfried admits, was daunting. "I was worried that I was incapable of nailing it the way it was written," she says. "It's so realistic. And the way things happen are so unexpected. I've never seen that in a movie."

Also participating at the roundtable is the film's screenwriter, Erin Cassandra Wilson, who is fulsome in her praise for Seyfried, not just for her performance in the film, but for her physical beautiful. "The face is so insanely given to us by heaven," she says. And indeed Seyfried in person, with her saucer-shaped blue eyes and bee-stung lips is as uniquely striking as she is on the screen.

Wilson, who adapted the script from a 2003 French film, "Nathalie," recalls Seyfried's audition. Up against a number of well-known actresses, she got the part because she showed she "knows how to walk the line between good and bad. … Her soul was able to play two things at once."

Seyfried's steamy sex scene with Moore inevitably comes up. "No intimate love scene like that is going to be easy whether it's with a man or a woman," says Seyfried. "I think we got through it as best we could." She praises Moore for her willingness to collaborate. "Julianne treated me like a peer and like a teammate," she notes. "We had to discover something, a relationship–we had to work through it together. It was amazingly generous for someone like her, so established and so unbelievably intelligent, to be able to give me her respect."

Seyfried shies from talk that that her career is at a new launch point. "I feel like that they've said that before about me, but mainly because I had a movie that won at the box office," she declares. "When people say 'I'm in the moment,' how long does a moment last?"

Her popular February release, "Dear John"—in which she co-starred with Channing Tatum in a wistful modern-day wartime romance, has so far taken in $77 million at the box-office, triple its production costs. It was also the first film to knock "Avatar" off its No. 1 box-office perch. Though critics generally panned the film, Seyfried was singled out for praise in a number of reviews. A.O. Scott of the New York Times called her "a resourceful and engaging young actress industriously turning herself into a movie star."
Looking forward, Seyfried has a platter of projects. She recently agreed to do a fourth season of HBO's "Big Love," which will be her last, playing the oldest daughter in a polygamous Mormon family. It's considered to be her breakthrough role.

In "Letters to Juliet," to be released in May she reverts to her sweetheart side, co-starring with Gale Garcia Bernal. Set in Italy, it's a fanciful story about the discovery of a trove of letters from Juliet Capulet. "That's more like me," she notes. "Chloe isn't me."

Next up for Seyfried is a period piece comedy, "A Woman of No Importance," based on an Oscar Wilde play, that also stars Annette Bening and is being directed by Bruce Beresford ("Driving Miss Daisy").

Seyfried is meanwhile in late-stage negotiations to star in "Red Riding Hood," another psychological thriller that Catherine Hardwicke, who did "Twilight," is directly. And Seyfried says she has also been talking about a part in "Albert Nobbs," based on Glenn Close's Broadway hit about a 19th century woman who impersonates a man to survive. "Working with Glenn Close," she says, "that would really be amazing."
[From Monsters and Critics]
I think having a love scene with Julianne Moore would be wonderful. But I'm a ginger-lover, so maybe that's why I romanticize Julianne. I'm not going to see this movie or anything, but I might rent it at some point just to see my lover Julianne.
You know what just struck me? I haven't seen Amanda with her boyfriend Dominic Cooper in a while. Did they break up? There were tons of rumors about him cheating, and he wasn't her date to the Oscars or to last night's premiere. Hmm…
Julianne and Amanda at the 'Chloe' premiere on March 15, 2010. Credit: WENN.