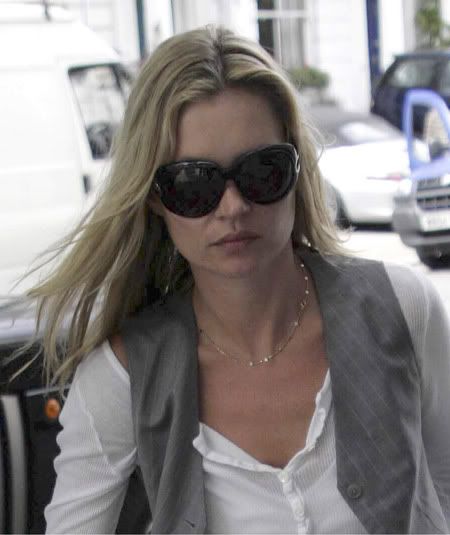 Johnny Depp and Kate Moss, who split up in 1997 after dating on and off for three years, may play ill-fated lovers Michael Hutchence and Paula Yates in a film about the INXS frontman's life.
Depp, who will play the late INXS frontman, split up with the supermodel in 1997 after a stormy three-year romance.
But he is happy for Moss to get close again, and play Hutchence's girlfriend Paula Yates in the rock movie.
An insider said: "Johnny was asked if it would be a deal breaker for him if Kate was cast."
"He said 'Not as far as I'm concerned.' He figures there's been enough water under that bridge.
"Obviously director Nick Egan hoping there's still enough chemistry between them that will translate to the screen.
"It has been claimed she never got over him and in the film they'll have to appear deeply in love."
Both Yates and Hutchence are now dead. Hutchence was found dead in November, 1997, in a hotel room in Sydney. He was naked and died of self-suffucation from a leather belt. Yates insisted that Hutchence's death was an accident, and that he was practicing dangerous auto-erotic asphyxiation, or trying to increase sexual pleasure through lack of oxygen. Yates died in 2000 from a heroin overdose. She was said to be distraught over losing custody of her three ridiculously-named daughters to her ex husband, Bob Geldolf. Yates and Hutchence are survived by a ten year-old daughter, Heavenly Hiraani Tiger Lily. (Yes, that is her name.)
While Moss has her share of drug abuse and tragedy, which may help her relate to her character, it is unclear whether she can act. She has only bit parts to her credit. If she can act it will be an impressive role to add to her resume.
With Johnny Depp in the lead, people are sure to be interested in the film, and it could be an incredible story of the late Hutchence.
Inset picture [via]
Here is Kate Moss leaving her home on 5/25. [via]. Her left cheek looks swollen and there was a report that Pete Doherty hit her, but her publicist insists it's just a badly angled photograph.