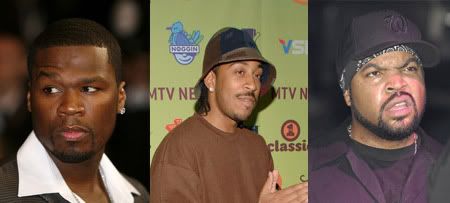 Oprah has pissed off several hip hop stars including Ludacris, 50 Cent, and now Ice Cube. The rapper-actor has joined the chorus of male artists who claim that Oprah doesn't give them equal air time. Ice Cube makes a good point when he notes that Oprah puts rapists and child molestors on the air, but doesn't invite hip hop artists:
"I've been involved in three projects pitched to her, but I've never been asked to participate," the rapper-actor tells FHM magazine. "For Barbershop, she had Cedric the Entertainer and Eve on, but I wasn't invited. Maybe she's got a problem with hip-hop." Cube adds: "She's had damn rapists, child molesters and lying authors on her show. And if I'm not a rags-to-riches story for her, who is?"
A few weeks ago Oprah gave a ridiculous excuse for her white middle-aged female-centric show, saying she loves hip hop and even has some black artists on her iPod:
"I listen to some hip-hop," she told DJ Ed Lover. "You know, I've been accused of not liking hip-hop and that's just not true. I got a little 50 (Cent) on my iPod. I really do. Love 'In Da Club.' … Love that, and you know, love Jay-Z, love Kanye (West), love Mary J. (Blige)."
That's like Bill O'Reilly saying he has black and gay friends. (Ok, it's not that bad, but it's a pretty lame excuse.)
Maybe Oprah will realize that rap isn't taboo and that her audience likes a good story from any background. Africa is cool enough for Oprah, but black culture in America is something she filters through her clueless, snotty viewpoint. She's old and richer than everyone in the world. It's about time she realized her show can't remain relevant and retires.