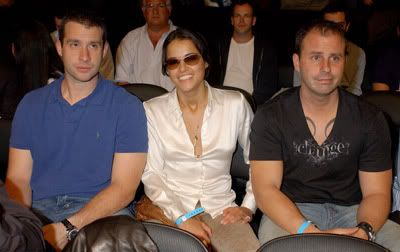 Michelle Rodriguez was released from jail after serving a mere 4 hours of a 60 day sentence for violating parole. We initially thought she was arrogant and foolish for taking jail time instead of community service for an earlier DUI violation. She only served 65 hours of a 5 day sentence for that conviction, and praised the merits of jail, saying she sang show tunes, wrote poetry, and got along with the other inmates. The prospect of so much jail time seemed trying for the "Lost" actress, who was said to be "solemn-looking" while leaving court after sentencing. She got off with even less time served now, though, making it seem like she's working the system:
TMZ has learned
Michelle Rodriguez's 60-day DUI jail sentence turned into four hours and 27 minutes behind bars
— a byproduct of overcrowding and budget problems in LA's jails.
The 'Lost' star checked herself into jail last Thursday to begin a 60-day sentence for DUI-related probation violations. At the time, the star said she would serve her time, then flee the country for France.
But a spokesman for the LA city attorney's office said Rodriguez was released after just less than four and a half hours as part of a book and release program typical for non-violent offenders with sentences of less than 90 days. Steve Whitmore, a spokesman for the LA County Sheriff's Department, said the early release program was implemented in 2002 "as a last resort" to meet budget cuts that reached $180 million.
Surely someone pulled some strings for Rodriguez, or maybe this is standard procedure as suggested.
Last week Rodriguez told photographers that she was moving to France, because "people don't bother you there," but she was out in LA at the "Ultimate Fighting Championship" boxing match on Saturday, as seen in the header image, above. She seems to be enjoying herself, while her friends look like they'd rather be anywhere else.
Rodriguez still has 30 days of alcohol rehab to serve along with years of probation. Maybe that will help keep her sober since she hasn't faced stiff consequences yet for multiple DUI violations.