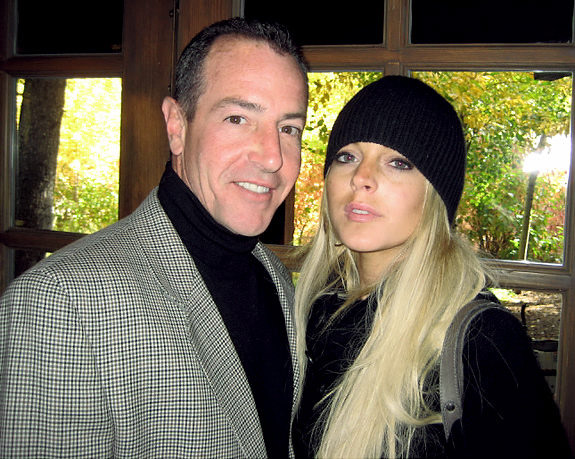 Lindsay Lohan talked about Heath Ledger in the New Yorker magazine interview that accompanies her topless tribute to Marilyn Monroe. We covered this story earlier today, but here's a recap: Lohan called Marilyn's suicide tragic and then said "You know, it's also tragic what just recently happened to someone else." When the journalist said Heath's name she shook her head yes and "hey are both prime examples of what this industry can do to someone… But I sure as hell wouldn't let it happen to me."
Despite the fact that Lohan annoys the hell out of me, I hope she moves to somewhere far away without paparazzi or tanning spray facilities and stops spending money so she can live adequitely (spelling deliberate) outside of the spotlight. I certainly wouldn't want her to meet a tragic end unless it involves personal bankruptcy and not death. Her father says that the latter is a possibility, considering that she is now, or has at some time, taken many of the same prescription drugs as Heath Ledger was went he died. It sounds like their whole family has the same inflated sense of self importance as their orange daughter:
When Heath died, he was taking some of the same medications that Lindsay Lohan has been prescribed, says her dad, Michael Lohan. "Even before Heath's death, I told Lindsay that I'm very concerned about the pills she's taking. Doctors had Lindsay on Oxycontin when she broke her wrist. They also had her on Adderall for ADD, Xanax for depression and anxiety and Ambien for insomnia. Although Lindsay, 21, has told Michael, "Don't worry, Dad, I'm okay," he believes that doctors are overmedicating young stars. "I'm not only fearful for Lindsay, but for all the other kids out there… Most of these young people shouldn't be on some of these medications – instead, they should get spiritual guidance, counseling and exercise. These new drugs get into their bones and bloodstreams and they have to detox to get off them or they can have seizures or possibly die."
[From In Touch, print edition, February 25, 2008]
Leave it to Michael Lohan to make Heath Ledger's death about his daughter. At least he has some experience in the field, now that he's working at a faith-based rehab. He also kept the proselytizing to a minimum, you have to give him credit for just saying "spiritual guidance" instead of name-dropping God and/or His Only Son.
I was confused about the "drugs get into their bones" comment, and asked my husband about it. He's a scientist and works in the pharmaceutical industry and he told me that drugs can conceivably get into the bones because there are blood vessels there. It terms of detox you would be more worried about drugs getting trapped in fatty tissue, though, not in your bones, even with someone as skinny as Lohan.
Michael Lohan is shown with Lindsay in Cirque Lodge rehab last year.