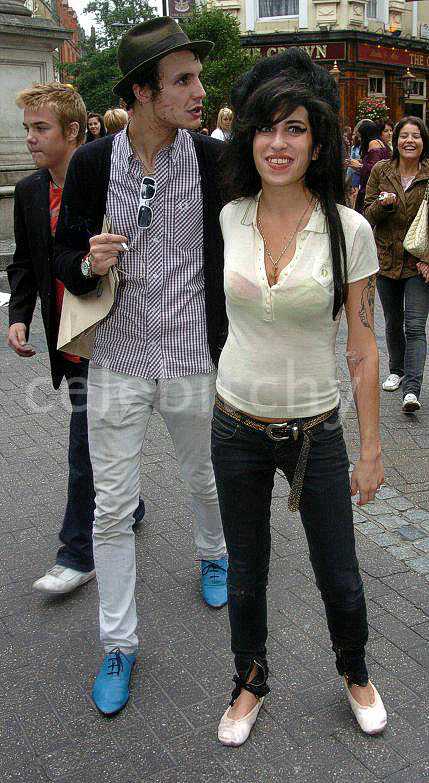 Blake and Amy in August of last year
That master of junkie manipulation, Blake Fielder-Civil, is at it again. Seems like every time his wife, Amy Winehouse, starts to get her life together again, he pulls a stunt from his cell in Pentonville prison in London– most likely, to get Amy to come running. If you recall, so far Blake has attempted suicide, sent his own mother running to the tabloids to spread rumors about Amy, wrote her a two-page love letter begging her not to leave him, and now there are new reports that Civil overdosed on heroin in his cell over the weekend.
Blake Fielder-Civil was rushed to the jail's hospital block when he collapsed in agony after taking what he thought was heroin.

Guards found the 35-year-old writhing in pain and vomiting violently in a cell.

They instantly set off alarms and activated emergency procedures to save his life.

A probe was launched and prison officers found he had taken a drug believed to be heroin, mixed with a toxic substance.

A jail source said: "This was a close call, but he might not be so lucky next time.
[From The Daily News]
This is the third time that Civil has been found with drugs in his cell since being incarcerated. At first, it was rumored that Amy herself was slipping him drugs, but since the singer is searched each time she visits, that theory was dismissed. This time around, officials say that Civil got the heroin from another inmate. Obviously, getting sober is not part of his agenda.
It seems like Civil has really stepped up his manipulation game since Amy went to rehab, and is now spending time with another man named Blake, rumored to be her new sober companion. Too bad for Civil that since he's incarcerated, his options for acting out to get her attention are limited to overdoses and suicide attempts. Hopefully Amy will tire of his antics sooner rather than later, and keep on track with her sobriety.
Picture note by Celebitchy: Blake Fielder Civil is shown below pre-prison on 11/7/07. He is shown out with Amy in August in the header image. Thanks to WENN.