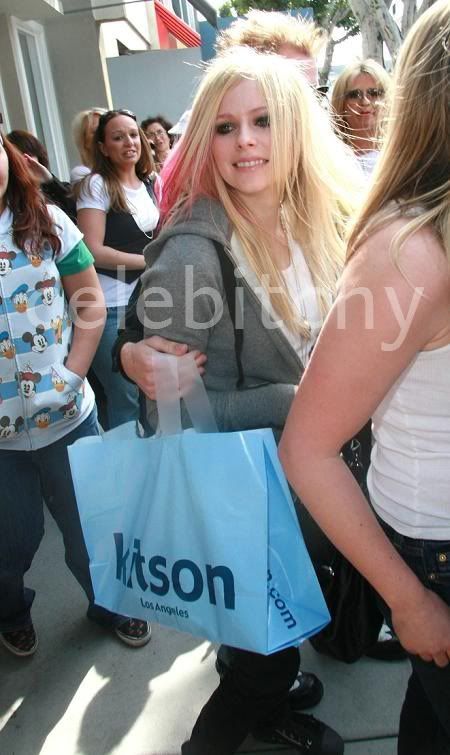 Avril Lavigne must truly be one of the most disliked celebrities on the internet. She has famously gone to war against several bloggers and spit on members of the paparazzi. Not the best way to make friends in the media. As a result, Avril has received a lot of bad press and is generally known more for her surly attitude than her singing. Though she has toned it down a bit since she got married to Deryck Whibley a few years ago, she still seems to be pretty widely disliked. News of a possible Lavigne/Whibley child hasn't brought the singer any kinder handling in the press. Though she and her publicist have denied a pregnancy, there's plenty of evidence that Avril is in fact toasting a bun in the oven.
The 23-year-old pop star and husband Deryck Whibley, 27, have been dogged by rumors recently that they're expecting their first baby. And they didn't do much to squash the pregnancy talk during a shopping trip yesterday along trendy Robertson Boulevard. Lavigne and Whibley, who have been married since July 2006, were spotted dropping into Petit Trésor and then Lisa Kline Kids, where they spent about $500 on baby gear.

I'm told they picked up a cheetah-print diaper bag at Lisa Kline, along with a Sassy pacifier holder, a charcoal gray baby tee emblazoned with the logo of rock band AC/DC and a white Splendid romper. "They shopped holding hands and picked stuff out together," an onlooker reports. At Petit Trésor, according to a source, they picked up a Petunia Pickle Bottom men's diaper bag and two organic Robbie Adrian baby blankets.
[From E!]
A Petunia Pickle Bottom men's diaper bag? Men need their own diaper bags? I know baby stuff can look kind of effeminate, but isn't that just part of the package? I would really love to see what a "manly" diaper bag would look like. I'm guessing it has lumberjacks and big chunks of meat on it or something. But I digress. That seems like a bit more stuff than you'd normally buy for a pregnant friend. And nothing says "Avril Lavigne's Baby" like an AC/DC baby tee. Always classy. Actually I think the whole rocker/rebel baby thing is kind of cute, when done in small amounts. Now Online also reports that Avril was spotted shopping at Kitson For Kids too. That's a whole lot of small clothing. Avril is pretty tiny, but I doubt she's fitting into a Splendid romper anytime soon. I would say the traditional "Congrats to the happy couple," but with someone like Avril Lavigne, she's probably apt to punch me in the eye for it.
Avril Lavigne and her husband Deryck Whibley shopping at baby stores on Robertson Boulevard. Images thanks to WENN.