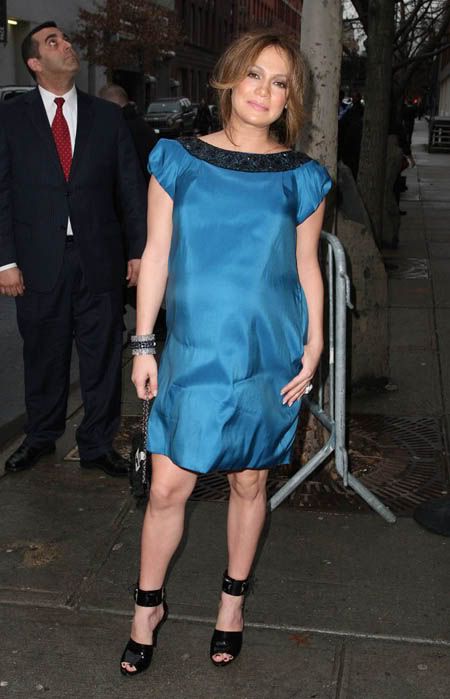 Rumors are swirling once again that JLo is in labor. So many questions! Will she push, or have her doctors recommended a C-section? Will she take drugs, or will she tough it out? Will she have white candles, white curtains, and white flowers all over the room? Will she listen to her own crappy music? Is she really having twins, or is she just really big with one baby?
Page Six is reporting that her highness has checked in to her luxury maternity room at Long Island's North Shore University Hospital to give birth to her alleged twins, fathered by cadaverous singer Marc Anthony.
The private room being held for Jennifer Lopez at North Shore University Hospital is finally occupied. Monday, we reported the room, which is furnished with a leather couch, had "been sitting empty for two weeks" in preparation for the pop diva's twins. But a recent patient at the hospital told Page Six that during her visit, staffers were aflutter, exclaiming, "J.Lo is here!" A rep for the expectant songstress did not return calls for a comment.
[From Page Six]
I'm disappointed. I have to admit, I loved seeing JLo waddling around, looking miserable. I was hoping she would stay pregnant forever, and just keep getting larger and larger, like Violet Beauregard in "Willy Wonka and the Chocolate Factory." It couldn't happen to a better person.
Hopefully this isn't another false alarm, though. And whether it's one or two babies, we will have the privilege of seeing them on the cover of People Magazine – the publication is reported to have paid a whopping $6 million for photos.
Note by Celebitchy: MSNBC's The Scoop reported that OK! Magazine also bought the rights to run JLo's baby photos, but only in their International versions and not their US publication. They quote an insider as saying "Look at her track record with her movies, and look at her album sales. The U.S. market hasn't been fascinated with her in some time."
Jennifer Lopez is shown at fashion week on 2/6/08.