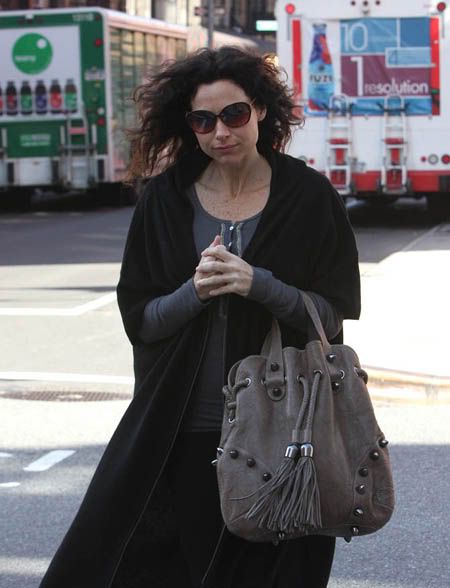 TV, film and recording star Minnie Driver was recently spotted exiting a clinic in Los Angeles, looking at sonogram images and acting very excited. This got the rumor mill buzzing: is she pregnant? Minnie, who is currently on hiatus from the excellent FX show "The Riches," keeps a very low profile and has not confirmed or denied the pregnancy rumor. But if it's true, who's the daddy?
Actress Minnie Driver is reportedly pregnant with her first child.

The 38-year-old was spotted outside a Los Angeles baby clinic looking at sonogram images with a friend last week.

A source said: "She is absolutely thrilled. She has always wanted to be a mother, she'll be fantastic. Her family are so pleased."

The British star also called her boyfriend, known only as Matthew, outside the surgery and talked about "getting blood work done".

She then added to her pal: "Matthew tells me I should be quiet so no-one hears me."
[From Stuff.co.nz]
Since being very publicly dumped by "Good Will Hunting" co-star Matt Damon over ten years ago, Minnie has kept her private life under wraps. She was engaged to "No Country For Old Men" star Josh Brolin for a while, but they broke up amid rumors that Brolin's stepmom, Barbra Streisand, didn't approve of Minnie. Since then, she's been linked to Criss Angel (ew!) and "Gross Pointe Blank" co-star John Cusack. All she's revealed about her current boyfriend is that he is "not famous and he's Australian," according to an interview in Girl magazine.
TMZ currently has a video posted of Minnie walking in Los Angeles wearing a loose fitting poncho, but there aren't many other recent photos of her, so it's impossible for me to tell if she's pregnant. If she is, congratulations to her and her mystery man.
Picture note by Celebitchy: Minnie is shown out in NY on 2/19/08, thanks to Splash News. Props to A Socialite's Life for reporting on this rumor a couple of weeks ago with an exclusive from insiders.