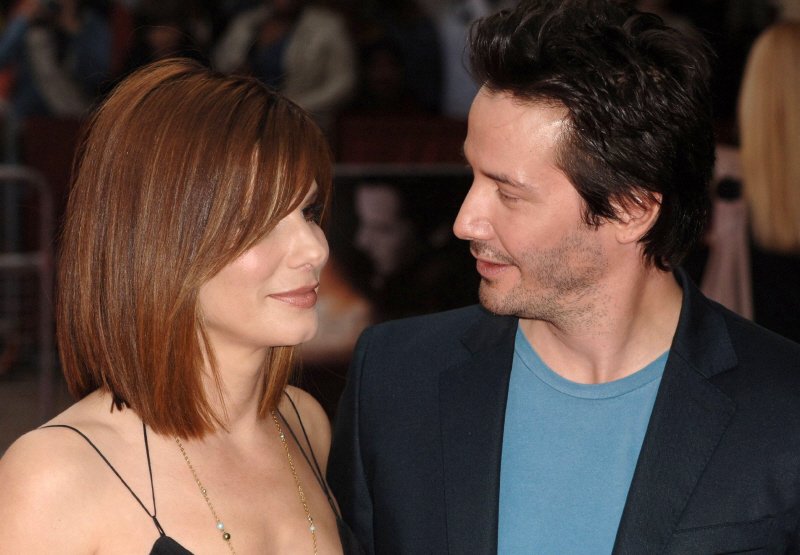 It hasn't even been a week since the news broke about Sandra Bullock's husband being the biggest douche EVER, and already the tabloids are putting her together with various men. I'm taking these reports with an enormous grain of salt, because we really don't know where Sandy is, what she's doing, how she's coping, or what her general state of mind is. I suspect her heartbreak is totally beyond just the "hand me the ice cream now, bitch" sense of betrayal. I suspect Sandra is nearly comatose from shock and despair. But, let's think happy thoughts and imagine her drowning her sorrows in vodka-soaked bon-bons being fed to her by lithe, naked costars. Fetch me the Ben & Jerry's, Keanu!
Yes, Keanu is one of the men that Sandra has been linked to in the past few days. No one is saying they're hooking up, only that Sandra is "leaning" on him. The Sun reports that Sandra is "seeking advice from Keanu Reeves" and a source says, " Keanu has always been close to Sandra and good friends with Jesse. He's been helping both of them." As for Keanu himself, Us Weekly cornered him at the Toyota event on Saturday:
Sandra Bullock's longtime pal Keanu Reeves — who costarred with her in 1994's Speed and 2006's The Lake House — wishes the best for the Oscar-winning actress, 45, whose husband Jesse James allegedly had an 11-month affair with a tattoo model.

Reeves, 45, attended the 2010 Toyota Pro/Celebrity race training at the Willow Springs International Raceway in Rosemond, Calif., Saturday.

Asked if he has any well wishes for Bullock, 45, he told UsMagazine.com: "Yes, of course, I mean for everyone."

Asked if he's reached out to her, he kept his mouth closed and walked off.

Earlier this week's Bullock's husband of nearly five years, James, 40, publicly apologized for causing the actress any embarrassment. She has reportedly moved out of the couple's Southern California home and hasn't been seen since the affair news broke.

Meanwhile, James has still been wearing his wedding ring.
[From Us Weekly]
I always liked Keanu and Sandra together. They seem to have a very sweet friendship, and many after some time passes, it could develop into something more. Keanu has had a lot of personal problems too – so he might be too much of a wounded bird for a fragile Sandra. Better she let me take him. But I'll let her borrow him.
Meanwhile, The Mirror's gossip guy claims that Hugh Grant and Sandra have been talking on the phone, and that Hugh offered to fly out to LA to comfort her. Hmm…
If I had to draw up a list of miserable celebs then Hugh Grant would be my gold-plated, runaway number one. I've had the misfortune to meet Mr Huge Grump (geddit?) on a number of occasions and he truly is one bad-tempered man.

So imagine my surprise when I was told that old Grump has a soft, gooey side after all.
For I can reveal that he has been nothing short of a "Godsend" to Oscar-winning pal Sandra Bullock after she discovered her husband Jesse James was cheating on her with an over tattooed "lady" by the name of Michelle McGee.

I hear Sandy has been having long phone conversations with Hugh while she decides what to do about her five-year-long marriage to the biker dude.

My source reveals: "Hugh has been a huge support to her. He's always thought extremely highly of Sandra and was really upset to hear about her troubles. Sandra's shell-shocked by what's happened – especially so soon after everything seemed so perfect after winning an Oscar for The Blind Side."

"She doesn't know whether she wants to fight for her marriage or not, but Hugh's been talking things through with her and he's been great. Sandy and Hugh have a special connection – always have. And Hugh will do everything he can to help her out – he even offered to fly out."

The pair became best friends on the set of their 2002 romantic comedy Two Weeks Notice and have remained in touch since. At the time, Hugh was asked if he could ever fall for his co-star and he said: "Oh God yes, definitely. It would be very, very easy."
[From The Mirror]
Ugh, I hated that movie they did together. Two Weeks Notice – what a turd that was. But they were adorable on the press junket for that film from what I remember, and I could buy that they're friends in real life. Long term though, I don't think Hugh is a good bet for Sandra either. He seems to like women who are a bit more "sexpot" than Sandra. But still, it's good to have a friend. I imagine Sandra's got a lot of friends in Hollywood that would be more than happy to help her out.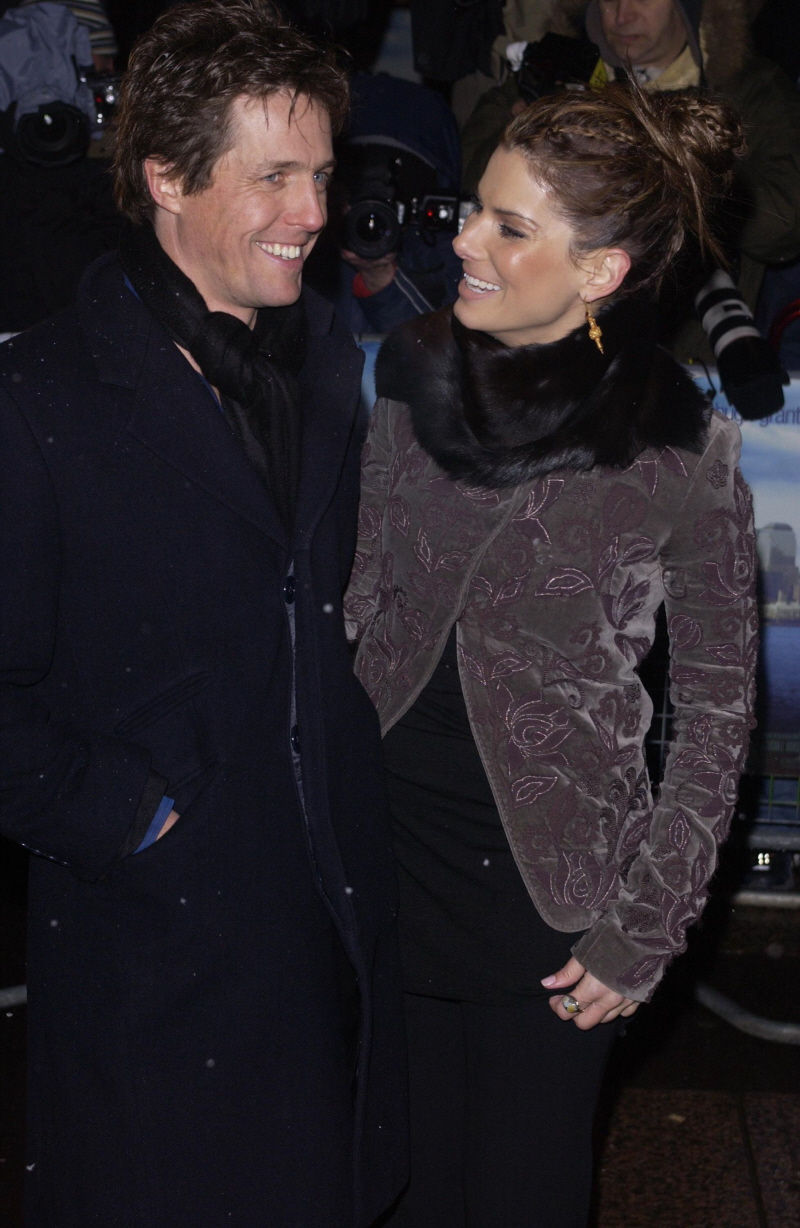 Sandra and Keanu at the UK premiere of 'The Lake House' on June 20, 2006, and at the 2006 Oscars. Sandra and Hugh at the 'Two Weeks Notice' premiere on January 30, 2003. Credit: WENN.