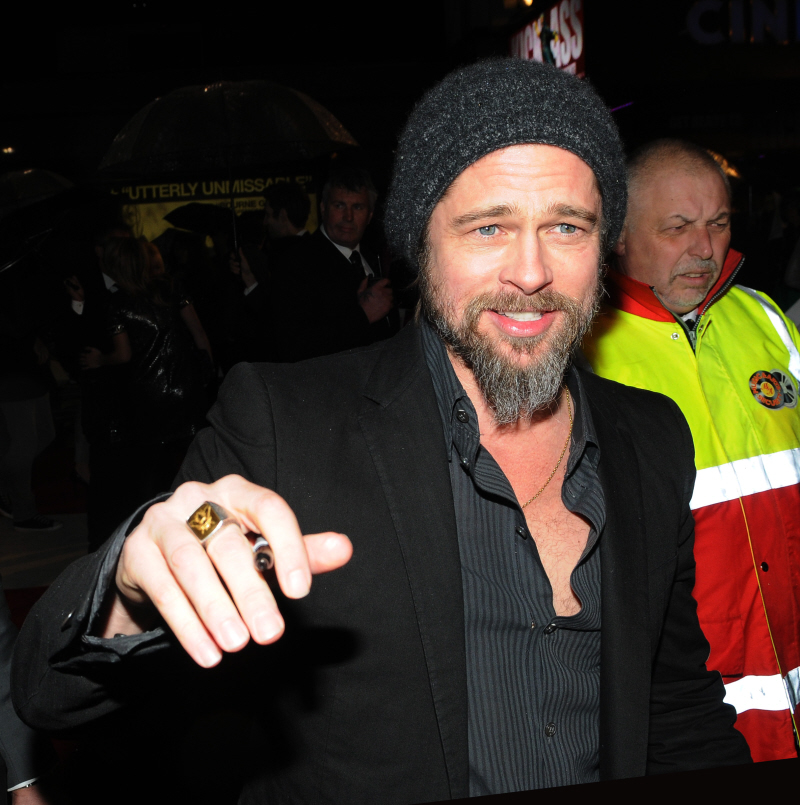 Okay, before I even get into why Brad is at this event, can I ask you something? Is Brad wearing a Freemason ring? I think he is. Is Brad a Freemason? Why has this never been part of all of the Brangelina conspiracy theories?!? Because Brad being a Freemason is really juicy. Here are various Google images of various Freemason rings, and here's a close-up of Brad's ring: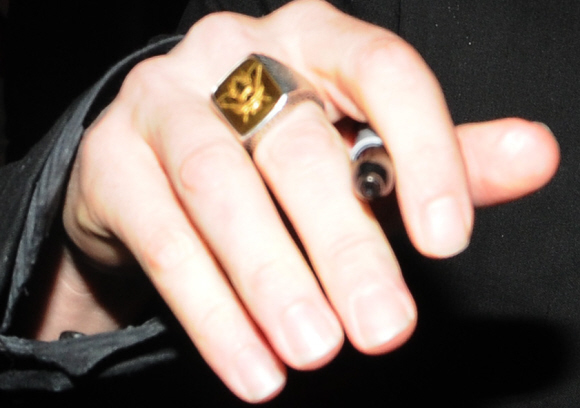 Anyway, here's an even weirder story – Brad Pitt is one of the producers of Kick-Ass, that kids' film starring Nicolas Cage, McLovin' from Superbad, and… Mark Strong?!? What the f-ck? Oh, and it's directed by Matthew Vaughn, the (brilliant) dude who directed Layer Cake and is Claudia Schiffer's husband/baby-daddy. This is like the most random film ever. Anyway, even though Kick-Ass doesn't open until April 16, they had a big premiere for it in London on Monday night. And Brad showed up! With his facial hair. Ugh. He spoke to Us Weekly about his time in Venice:
Guess those pictures of the Jolie-Pitts living it up in Italy — the boat rides, gelato, and on-set smooches — don't lie.

In London for Monday's red carpet premiere of the film Kick-Ass (he's a producer) Brad Pitt told UsMagazine.com that life in Venice has been "lovely!"

Pitt braved London's downpour with a hat and quipped, "the rain won't put us off a premiere!" (Kick-Ass stars Nicolas Cage and is scheduled to hit theaters next month.)

The star, 46, went stag for this premiere: Angelina Jolie, 34, stayed behind in the ancient city of canals with their six kids; she's been filming the The Tourist there with Johnny Depp.

With The Tourist filming primarily in Venice for about two more months, the famous family — Maddox, 8, Pax, 6, Zahara, 5, Shiloh, 3, and twins Vivienne and Knox, 20 months –has rented out a lavish, canalside 15th century palazzo.
[From Us Weekly]
Regarding Brad's general appearance for the premiere… God, I don't even know what to say. His clothes look fine, he looks like he bathed, which I can't believe I actually have to remark on (but I do, because sometimes he looks dirty in a bad way). I like the lines around his eyes, I like that he's no longer "pretty". He looks, generally speaking, like a man. But that beard! It ages him terribly. Without the beard he would look like what he is – a very nice looking middle-aged man with six young children. With the beard, he looks like an a douchey aging hipster who thinks it's "cool" or "hip" not to shave. But, whatever. If he's a Freemason I won't bug him.
MCLOVIN!!!!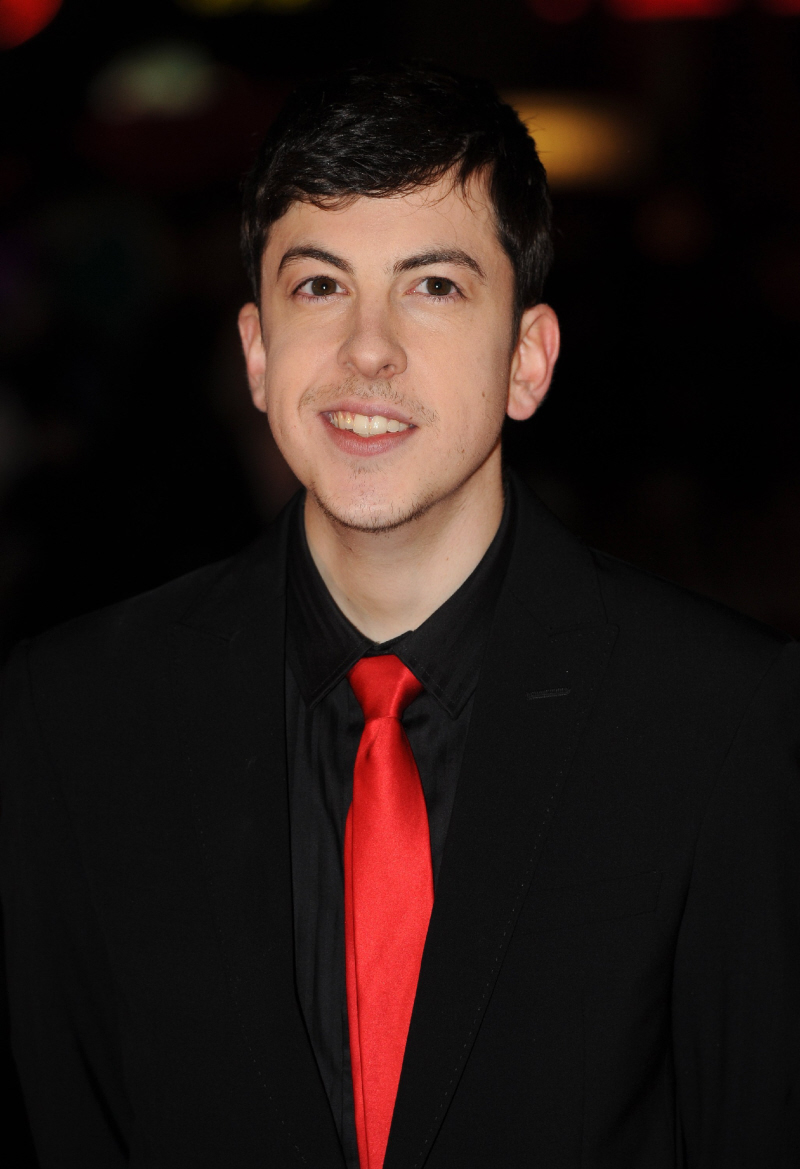 Oh, Mark Strong! Yum.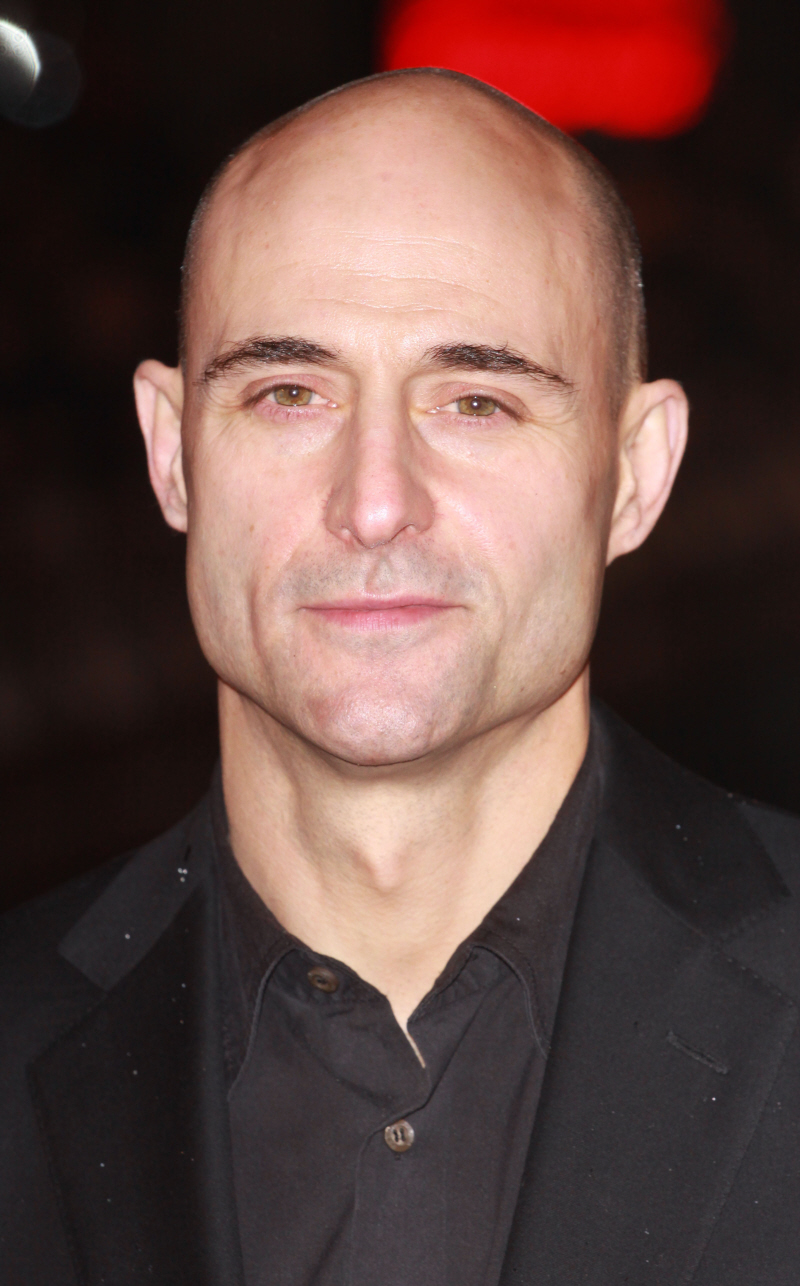 Brad, Mark Strong, Matthew Vaughn, Claudia and others at the Kick-Ass premiere in London on March 22, 2010. Credit: WENN.