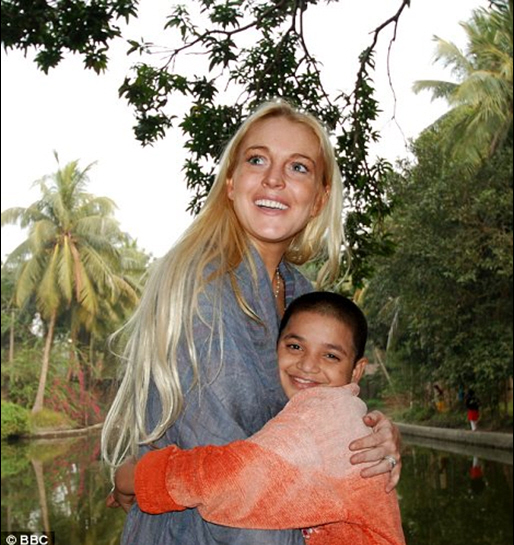 *Photo of Lindsay in India, courtesy of the BBC & The Daily Mail – for more photos go to The Daily Mail.*
Look at how high Lindsay looks! But don't think that this is drug related, because it's not, Haters. Lindsay is high on charity work! Chuckle. The above photo is courtesy of The Daily Mail and the BBC, and it's an image from Lindsay's trip to India last year, where she took part in a BBC documentary about child trafficking. Considering she spent like a total of one week in India, it's kind of amazing that we're still talking about it. Perhaps we are still fascinated because Lindsay (and everyone around her) continues to be an a-hole about the incident. From the clip I saw of the doc, Lindsay was particularly strung-out, narrating the piece with gems like "The parents aren't necessarily in the wrong…the children are obviously not in the wrong…um…ah, the traffickers are the ones in the wrong, because they know what they're doing, and anyone who says that they don't know? I mean, come on" and of course, "Didn't you hear that children were abused, and some girls, maybe if they were attractive, were raped and prostituted?"
While India wants to ban Lindsay from ever coming back, some people at the BBC are apparently afraid they're going to lose their jobs over this incident. So they've taken to the media to defend their hiring of La Lohan:
She certainly wasn't the first celebrity name to spring to mind when linked with the filming of a documentary about child trafficking in India. But Lindsay Lohan appeared to have thrown herself into the project wholeheartedly as she posed with a young child who may have benefited from her very public intervention.

However BBC bosses have been forced to defend The Mean Girls actress, who is as well known for her partying lifestyle as her film work.

Newly released pictures show one of the highest profile members of young Hollywood dressed simply in a black dress and shawl, very little make-up and looking to all intents and purposes like a woman on a mercy mission.

Actress Lohan, who is primarily known for her partying lifestyle, visited India last December to make a BBC documentary about poverty stricken women and children in the country. Lohan's trip to India caused controversy at the time after she falsely claimed she had rescued 40 child workers.

At the time she tweeted: 'Over 40 children saved so far, within one day's work. This is what life is about…. Doing THIS is a life worth living!!! Oh, and I'm talking about being in India.'

But according to activists leading the raids, Lohan did not arrive in India until after the raids had been completed and the children had been rescued.

A BBC spokesman said at the time that there had been a 'misinterpretation'.

During the whistlestop tour Lindsay visited the SANLAAP (women and children's charity) home in Kolkata and will also visited local hospitals to give toys to sick children. The star said the trip was the 'most amazing time of my life' and mentioned the work of Bachpan Bachao Andolan (Save the Childhood Movement), a charity which works against child trafficking.

Danny Cohen, BBC3's channel controller, defended the use of Hollywood actress to front the investigative documentary. He told Radio Times: 'Finding a celebrity who genuinely cares about the issue really helps pull in a crowd that wouldn't otherwise switch on. But you have to be careful. If you get a rent-a-celeb, this audience can spot it a mile off. I've turned down more celebrity-led documentaries than I've put on the channel.'

And the documentary's director Maninderpal Sahota, rushed to defend accusations that local children were being used as an accessory to help rebrand Lohan's fading celebrity. Sahota said: 'It's clearly not comparable, but I think as a result of working in an adult world since she was ten, she feels childhood is precious, and when you lose one you can never replace those years. She behaved perfectly throughout – she slept in the same hotels, travelled in the same cars, just asked the right questions and clearly empathised with the children in a way hardened reporters might struggle to have done. Most people in rural villages in India have absolutely no idea who Lindsay Lohan is… When we finished, we had to race to the airport chased by paparazzi. That's not the kind of thing you get if you work with Michael Buerk.'

But Radio Times still slammed the documentary as 'a crass pairing even though her presence will no doubt double the audience for the issue.'

And the publication were not able to interview concerned Lohan personally, as they wrote: 'Our attempts foundered when her personal assistant asked what the fee would be.'
[From The Daily Mail]
I really don't get this. Did Lohan "polish" some BBC's higher-up's "knob"? Granted, I believe Lindsay probably had no problems staying wherever she was told, and being generally compliant. Probably because she was coked out of her skull, judging from these photos. She probably thought the children were part of her normal cavalcade of delusions, like the time she thought she was working with a talking car.