Oh. My. God. I just watched this little one-minute clip of Lindsay Lohan's BBC documentary, which was supposed to focus on child-trafficking in India. This project was controversial from the start – first of all, what f-cking genius at the BBC greenlit a documentary starring Lindsay Lohan? Then, Lindsay spent her few days in India crack-tweeting about how she was saving the lives of "40 children" only to get smacked down big-time by the Indian charity who was actually saving children.
Now, about the clip: so, Lindsay can't even keep her sh-t together for like 15 seconds. She spaces out mid-sentence as she snorts out this gem: "The parents aren't necessarily in the wrong…the children are obviously not in the wrong…um…ah, the traffickers are the ones in the wrong, because they know what they're doing, and anyone who says that they don't know? I mean, come on." Thank you, Professor Crackhead. Next up, Lindsay will discuss Middle East peace: "There are, like, these Jews. And then there are…um, ah, Arabs. And I mean, come on." Also, Huffington Post had a sad chuckle over Lindsay asking an Indian woman "Didn't you hear that children were abused, and some girls, maybe if they were attractive, were raped and prostituted?" Jesus. I really hope someone at the BBC lost their job over this.
Meanwhile, this week's In Touch Weekly had a sad/ridiculous story about Lindsay that came from one of Michael Lohan's gross tapes of his family. I swear, this man can't speak to a family member without taping it, so just beware that this is coming from him. Apparently, the tape comes from last year, when Lindsay called her father and admitted that she was out of control. Lindsay allegedly tells her father: "In Miami, Mommy threw me in the cab, and I stopped breathing for 10 seconds… they read me my last rites." Here's more, from In Touch:
Lindsay's friends are not surprised to hear she's been putting her health at risk. "She used to stay up all night doing drugs and drinking vodka with a bunch of downers… she would start off with one or two pills, and would take more until she calmed down."

"No one is really there for her… she has cut a lot of people out of her life, or they have given up on her because she refuses help. She can't maintain relationships because she's so crazy. One minute she's your best friend; the next, she's stabbing you in the back."

Meanwhile, Dina Lohan rarely acknowledges Lindsay's problems. "She has made mistakes. She's 21, everyone makes them at that age," Dina said in 2008.

In the recorded phone calls, Lindsay reveals that she's bitter that her mom is more interested in reaping the benefits of her fame rather than caring about her. "I hate her." Lindsay seethes.

When Michael tries to convince Lindsay that she's straight and shouldn't be with her now-ex Samantha Ronson, Lindsay cries, "I don't love men. I was sexually assaulted by two of them!"

Lindsay also talks about little sister Ali: "Ali is me… she tries to hold everyone together, and she's falling apart in the meantime! Stop putting so much pressure on her!"
[From In Touch Weekly, print edition, January 18, 2010]
I'll believe that Lindsay claimed all of this stuff, but not that all of it is true. And am I the only disturbed that Lindsay still calls her mother "mommy"? Sure, there's other stuff there that bothers me, but "mommy" is killing me. Speaking of Mommy Lohan, Dina rasped her way through another delusional interview, this time regarding Lindsay's India documentary. Dina told People Magazine: "It was an amazing, life-changing experience for her. I'm so proud of Lindsay, that under all the scrutiny the tabloids put her under, she is a very strong, caring, talented girl who ignores all the negative, and continues to move forward in a positive direction. I am so proud of her." Still sellin'.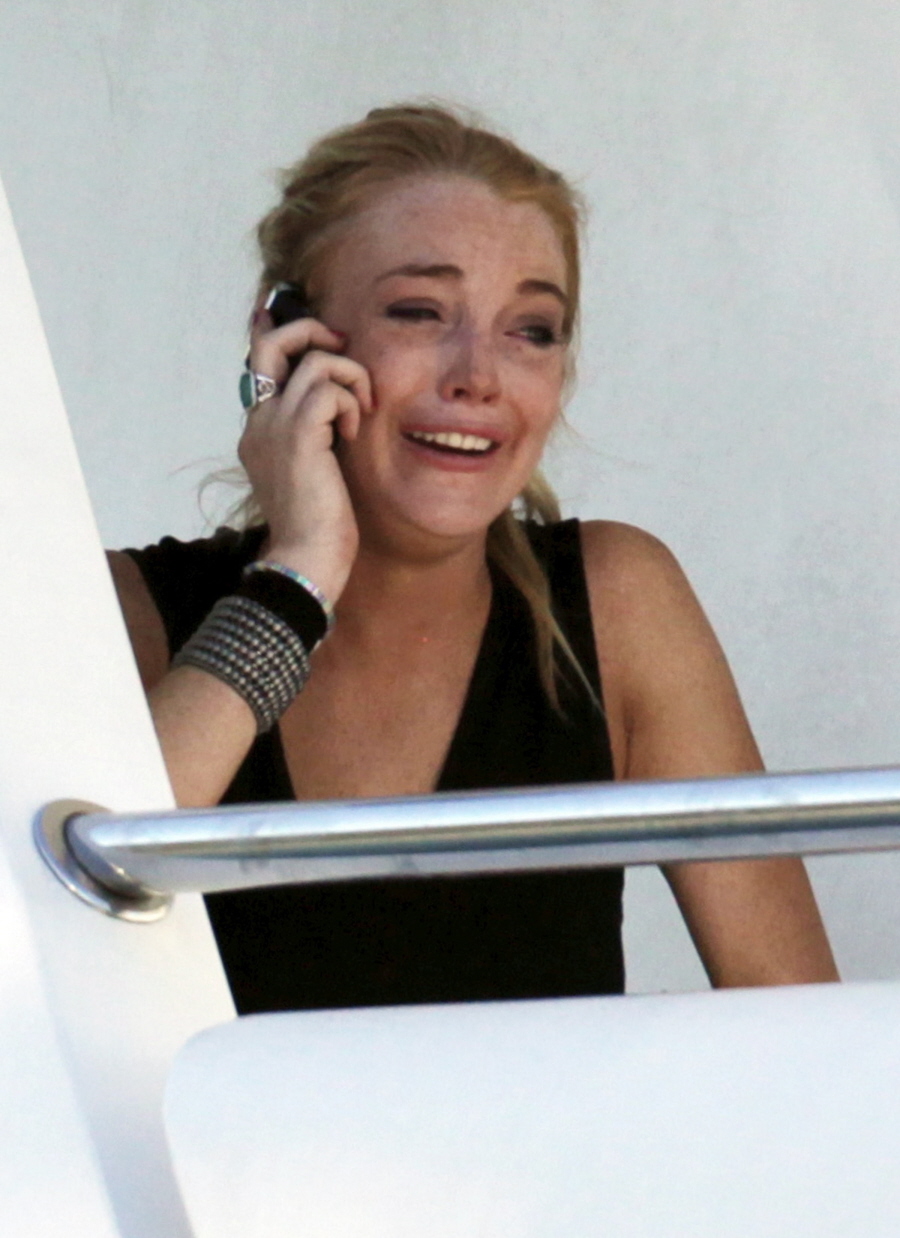 Lindsay Lohan on January 9, 2010 in Hollywood, credit: Fame. Also, one of the infamous crying pictures from January 4, 2010, in St. Barth, credit: Spread/Fame.