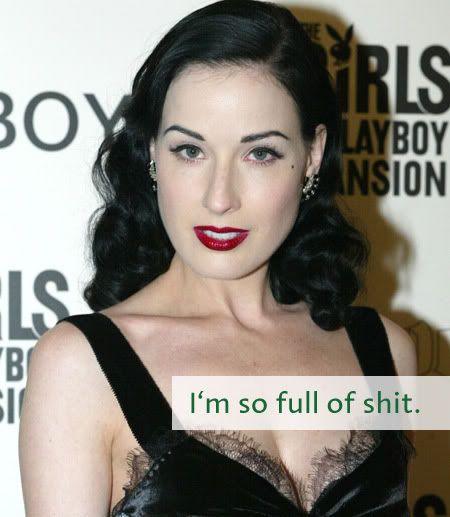 If Dita Von Teese hadn't married Marilyn Manson her career would never have taken off. I'd never heard of her before she married Manson.
She's a stripper with fancy accessories. You can call it burlesque or any name you like, but she's taking off her clothes to music. There's nothing wrong with that, but she seems all snotty and self-satisfied as if she's acting in art films rather than giving people a glimpse of her goods.
Dita stripped for Hugh Heffner's 80th birthday party in Paris on 5/29. TMZ has a lousy video of her stripping that isn't worth the wait. Listen to the crap she says about other strippers:
"There's a lot of candy-coated non-burlesque burlesque going on in this city,' said the vampy dancer, "I think somebody needs to remember that burlesque wasn't just about a style or wearing fishnets and hot pants and dancing sexy, it was about the strip tease and the art of the strip tease."
So, you're saying that you gyrate better Dita? I mean, you're good at your job and all but you're a stripper. Get over yourself. If you weren't Mrs. Marilyn Manson you wouldn't be famous.
Dita and Marilyn aren't going to last. She's too full of herself.