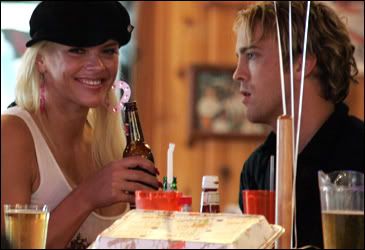 Anna Nicole Smith, 38, has been rumored to be pregnant with her second child. It's now said to be true according to her paparrazo lover. She is said to be five months along. Smith's lawyer, Howard K. Stern, claims that Anna wants the man who claims to be the father of her baby out of her life. Anna's lover says her bitter lawyer just wants to get into her maternity pants:
Howard K. Stern tells TMZ emphatically, "Anna wants that guy completely out of her life and obviously he is having trouble dealing with it." He also said, "You'll be able to find out soon enough [if she's pregnant]," but would not elaborate beyond that.
A source says Stern may be denying the pregnancy rumor because it would take the thunder out of an official announcement from Smith– an announcement we're told she believes is worth a serious amount of money.
UPDATE 5:45PM ET: Larry Birkhead read Stern's response to TMZ and adds: "I was not going to discuss the matter publicly, but since Howard K. Stern is attempting to bash me… I have been told that I am expecting a child, I have seen the ultrasound and have spoken to doctors. I am very excited about the possibility of becoming a father. Howard needs to get past his own jealousy about the relationship between myself and his only client."
Poor Anna. If only she could get her hands on the billions of dollars she earned by servicing that withered old sick man, she wouldn't have to try to squeeze a mere five figures out of a gossip rag for the official pregnancy announcement. It's also bad news for Anna if that Howard Stern guy is her only lawyer. He doesn't seem qualified to have represented her in front of the Supreme Court.
Update: Anna Nicole Smith confirms her pregnancy in a mumbled video taken while floating in her pool.