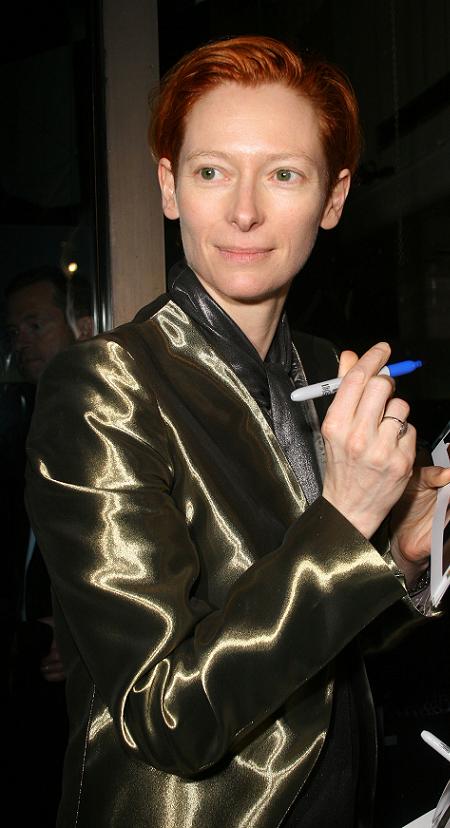 Tilda Swinton won the "Best Supporting Actress" category, which was generally considered to be wide open. The nominees also included Cate Blanchett for "I'm Not There," Ruby Dee for "American Gangster," Saoirse Ronan for "Atonement," and Amy Ryan for "Gone Baby Gone."
"Tilda Swinton's soulless corporate drone was a marvelous performance; against all odds, you still feel something for her even though she so clearly deserves the fate that titular lawyer Michael Clayton orchestrates for her."
[From the Chronicle Herald]
Tilda looked genuinely shocked when she was announced as the winner. Though her outfit left a bit to be desired, she was obviously thrilled to win – though it appeared she didn't have a speech prepared. Swinton started her speech by saying, "Oohh, no." She then looked down at her statue and noted:
"Happy Birthday, man. I have an American agent who is really truly the spitting image of this [her award]. The shape of the head… and it must be said, the buttocks. So Brian Swordstrom, I'm giving this to you."
[From the Academy Awards]
Swinton then thanked George Clooney and his dedication to all his roles. She made a joke about the commitment George showed when he played Batman, noting, "George Clooney, you know, the seriousness and the dedication to your art, seeing you climb into that rubber batsuit from `Batman & Robin' — the one with the nipples, every morning under your costume, on the set, off the set, hanging upside-down at lunch — you rock man." It was pretty funny, especially because of her dry delivery. It led to quite the visual image. Congrats to Tilda!
Header image of Tilda Swinton leaving a pre-Oscar party at Mr. Chow restaurant in Los Angeles, California. Photo thanks to Splash.
Note by Celebitchy – Here's Tilda's acceptance speech