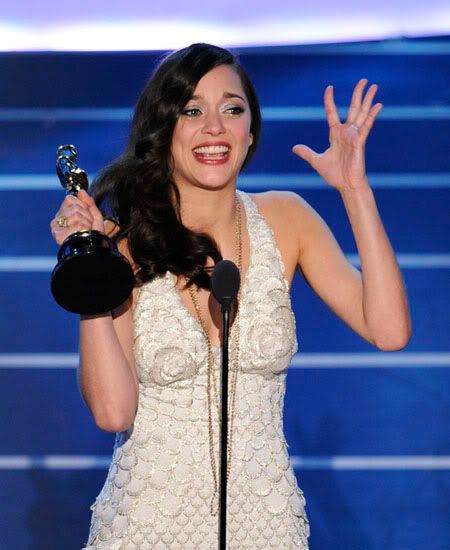 Marion Cotillard at the Cesar Awards
Marion Cotillard won best actress in an upset for her performance as tragic French singer Édith Piaf.
Cotillard was shaking and was visibly nervous and excited as she accepted her Oscar. She first thanked director Olivier Dahan, saying "Olivier, what you did to you me, you truly rocked my life. Picture house… members of the academy, I'm speechless now, thank you life, thank you love. It is true there are some angels in this city. Thank you so, so, much."
Cotillard covered her mouth as Forrest Whitaker led her off stage.
I'm just as shocked as she was that she won, as this was called as a race between SAG winner Julie Christie and newcomer Ellen Page. We prepared some quotes ahead of time for both, and even movie critic great Roger Ebert didn't see this one coming.
Here's the trailer for the film, and we'll have up Cotillard's acceptance speech tomorrow.

Update by Celebitchy: Here's the video of Cotillard's acceptance speech. This video is a little long as it starts with Forrest Whittaker's introduction and the full clips. Fast forward to 3:20 to see the announcement and Cottilard's acceptance. I heart her so much after watching this.