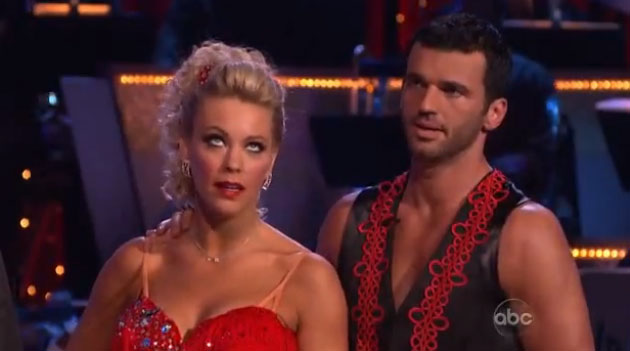 Yesterday we saw Kate Gosselin whining and complaining during a training session for Dancing with The Stars with her partner, professional dance instructor Tony Dovolani. Kate got all pissy with Tony and told him to teach her differently. Tony seemed exasperated but determined, saying that he taught other instructors and no one had ever questioned his technique like that before. Kate said the practice session was over and Tony said he quit and took off his mic. He later re-entered the room and sort-of made up to Kate, who said she accepted his apology. Tony was incredibly professional and low-key about the whole thing and even when he quit momentarily he did it without much drama. It should have been Kate who was apologizing, not Tony.
Spoilers for last night's elimination episode
Their performance was predictably awful and while Tony did well Kate missed steps and looked wooden and awkward during the jive. Many of us were rooting for Kate to be voted off in the results episode last night, but she didn't even land in the bottom two. Kate was second to last in the judge's votes with 80 year-old astronaut Buzz Aldrin at the bottom. The audience must be voting for Kate and Buzz because the results show had former Baywatch babe Pamela Anderson and 90210's Shannen Doherty in the bottom two. Doherty was ultimately voted off, which was strange because she had judges' votes which put her solidly in the middle of the pack. Anderson received the fourth highest score but no one must be voting for her. Gosselin, on the other hand either has fans or people that are invested in seeing her fail spectacularly. Maybe it's like a "vote for the worst" type of situation.
Getting back to Gosselin's beef with her admirably patient trainer – Popeater reports that Kate tried to get Tony fired! That's not about to happen, though, because unlike Kate the guy is universally loved by his coworkers.
Sources backstage at 'Dancing With the Stars' tell me the sparring between Kate Gosselin and partner Tony Dovolani that we saw last night is just the tip of the iceberg, and that things escalated so quickly that Kate insisted Tony get the boot from the show! However, from what I'm hearing, it's not Tony who's the problem.

"Everyone involved in the show thinks Kate is impossible. We all feel very sorry that poor Tony got paired up with her. She talks to him as if he is her ninth child," sources tell me. "At one point things got so bad that Kate demanded that the shows producers fire Tony and get her a new partner. However, everyone would rather get rid of her than Tony, who is loved by all the staff."

During the March 29 broadcast, video showed Kate and Tony clashing during a rehearsal. Dovolani walked out on Gosselin after she questioned his technique, arguing that what he was teaching her was "wrong." Gosselin teared up on camera, and it looked as though she was going to quit. But they finally pulled through and danced the Jive for the show, despite Dovolani saying on camera that he should quit.
[From Popeater]
Kate's nasty demeanor and awful dancing are getting old fast and people will hopefully stop voting for her soon. I know she's inexplicably popular – we like to see what she's up to because she's the harpy with eight kids whose husband left her for a string of 20-something do-nothings. I'm sure there are still people who see her as a victim who is soldiering through for the sake of her kids, but the more we see of her on Dancing the more her real personality is coming out. Maybe by putting herself out there for a wider audience Kate will make it abundantly clear that she's no victim. She could also be screwing herself out of career opportunities by cementing her public image as a shrew.