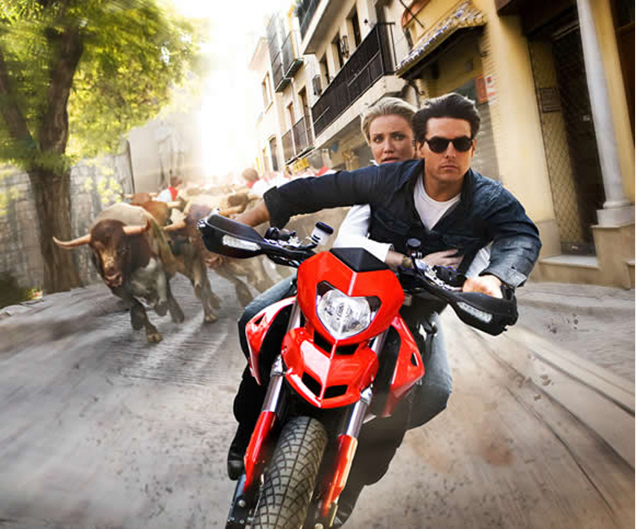 I saw this new trailer for Knight & Day a few nights ago, and I was kind of blown away by how craptastic it looks. Like, did you ever watch The Bourne Identity and wish it had more Cameron Diaz pratfalls? No? Well, too bad. This film seems to borrow heavily from Mr. & Mrs. Smith, the Bourne series, plus a dash of Cameron Diaz acting wacky in just about every comedy she's made:
The digital effects are truly terrible, right? But I did enjoy Tom Cruise's "SQUEEE!!" jump face. Agent Bedhead points out that "the movie really emphasizes the 'Crazy Cruise' vibe and completely runs with it. This is a rather clever (i.e., predictable yet still amusingly tongue-in-cheek) approach of capitalizing upon Cruise's couch-jumping reputation, but I still think the man himself really is an unhinged, lift-wearing midget." I think that's how we should refer to Tom from now on. We should just say, "Oh, Tom? The unhinged, lift-wearing midget. Him. Did you see his face when he jumped?"
Knight & Day still courtesy of Agent Bedhead.