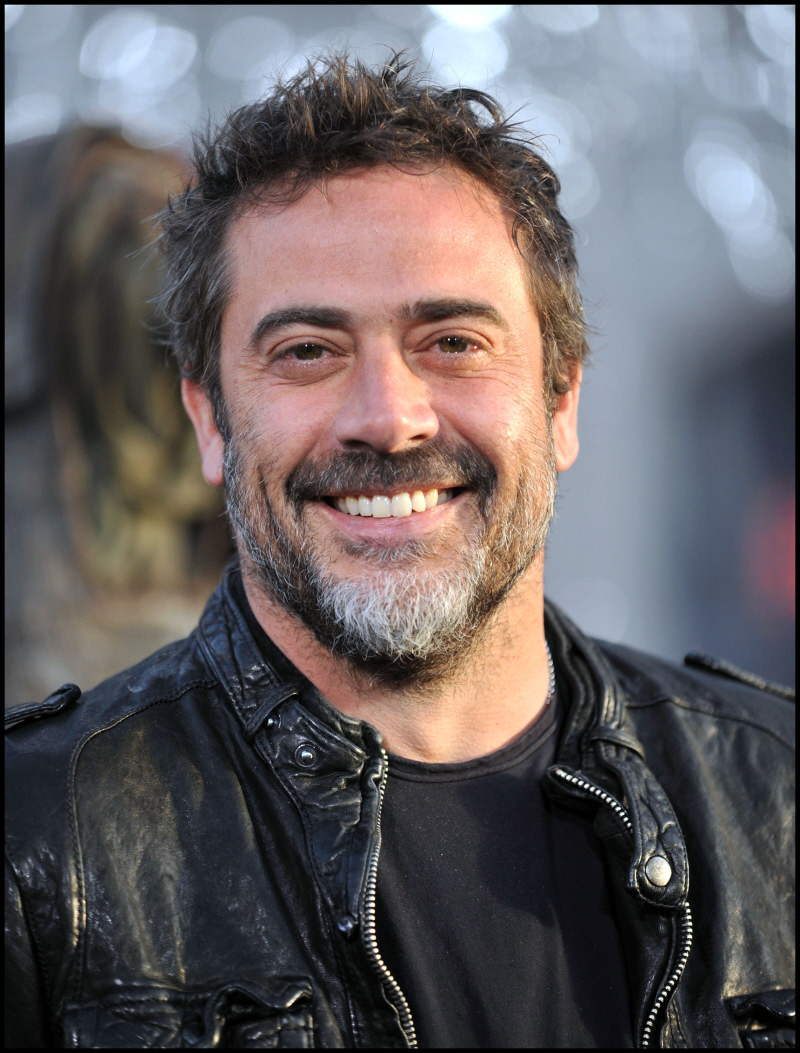 This should be our new thing, right? Every so often, when we're feeling overwhelmed with bad gossip, we should just have a nice post celebrating a hot guy (like Clive Owen, or this one). Thus, a little Jeffrey Dean Morgan in the morning. These are photos of JDM last night at the LA premiere of Clash of the Titans. He's not in the movie or anything, I guess he just went to the premiere to actually see the movie. And he rarely makes the Hollywood rounds, so I'm enjoying this little appearance.
JDM became reasonably famous when he played a series of dying or dead men in shows like Grey's Anatomy and Weeds, but he parlayed that into bigger parts in films like Watchmen and P.S. I Love You (he was honestly the best part of that horrible film, apologizes to Gerard Butler). He's been around for a while, and he's got no fewer than five films coming out this year, including the soon-to-be-released The Losers. I just saw an ad for The Losers, and although it looks like budget Tarantino/Elmore Leonard, it doesn't look terrible. Here's the trailer:
Sigh… I love JDM's voice. And Idris Elba is in it too! That hot bitch. Anyway, JDM recently sat down for an online interview with Comic Book Resources (full piece here) to talk about The Losers, and these are some excerpts that I found interesting:
Tell us a little about your character.
Frank Clay is a special forces colonel, [who is in command of] this group of guys who kind of get set up and it's the story of revenge and I'm the leader. There's a lot of kicking ass. A lot of explosions. A lot of fights. A lot of all the stuff that we go to movies for. What this is is Joel Silver doing what Joel Silver became Joel Silver for doing with the "Die Hards" and the "Predators." It's very much a movie reminiscent of those old kind of action movies. There's some tongue-in-cheek humor and a little sex. All that stuff that we like. All the stuff I like.

Coming off of "Watchmen," another comic-based movie, how is this character similar or different to playing the Comedian?
This guy [Clay] has a real, actually much better sense of humor than the Comedian did. He's not nihilistic. It's completely different. This is much lighter. A much lighter load for me. There's also kind of room for me to interpret this as a project where, in "Watchmen," you had to – look, I was playing the Comedian in the most revered comic book ever written. I was confined to that. In this, I could fine-tune a lot of what I thought Frank Clay is and get to play with it a lot more. In "Watchmen" I didn't want to change an ounce of the dialogue. For this, I could play around and have more fun. It's more freedom as an actor to just mess around with stuff. It's very refreshing.

Are you able to riff off-script at all, or is everything pretty tight?
No, no. I get to ad-lib. Not a lot, but if there's something shooting that day and I come up with something, generally whatever my idea is, it can be worked in because I put enough thought into it. You just check with people first. You don't just throw it out there. You don't want to ruffle too many feathers. But they were real good on letting me kind of run with it.

Coming off of "Watchmen," were you concerned about doing another graphic novel adaptation?
No, I love it. We talked briefly about that. There's so many, now. It's kind of an untapped world, this comic book world. I read the same scripts over and over again, and comic books are just apt. There's this big, wide universe out there. If you've seen the stuff that has come out and the stuff that they're making, it's a trend that's going to continue for a while. I'm happy to be in this world. I'm loving it. I love this. I could do comic book movies forever.

This is the first big movie where you're really carrying the film. What is that like for you, playing the leading man on a film like this?
I have to be a lot more serious and on-time. Set an example. No, you still do the same character work. You just don't have a lot of down-time. On this movie, I don't know how long we've been here. I think two months. I think I had one day off, and that day off I spent on the set. I think that's the one thing that changes. It is different. That's only kind of a joke when I say that you have to set an example. That's kind of the job of anyone who is in the kind of position that I'm lucky enough to be in right now. I am in every scene, and you want to make sure that you know your job and do your job right and don't f-ck around too much. I want a studio to take a chance on me after this movie, as well. Joel and Akiva and Warner Bros. have put a lot on me and given me a lot of trust. A lot of that has to do with coming off "Watchmen." It's just a big deal for me. I hope that we're making the movie that I think we are making. The stuff I've seen is awesome and I'm exceedingly proud of it. I think it's going to be a really great, fun movie.
[From Comic Book Resources]
He sounds like a nice guy. You know, one of those dudes who has been working for a break for years and years and then all of a sudden he becomes a household name and it's instant stardom. JDM's also got the remake of Red Dawn coming out later this year too – WOLVERINES! He's so cute. He's like the less scary, American beefcake version of Javier Bardem. Mmm… beefcake.
JDM in LA on March 31, 2010. Credit: WENN.