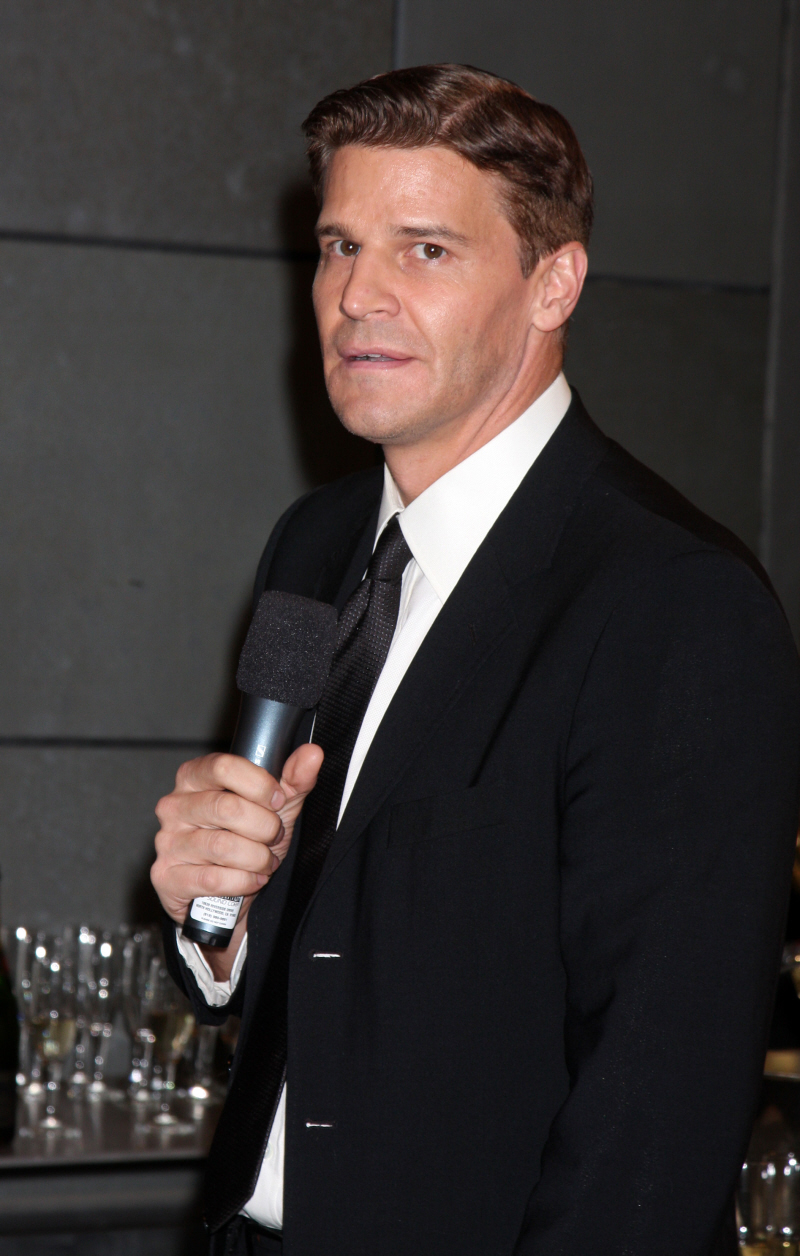 I know this seems like it happened forever ago, but I remember this story very clearly – back in October of last year, Star Magazine did some digging and investigative reporting, and they found some sketchy evidence that Bones star David Boreanaz might have been boning a woman named Rachel Uchitel. Star provided a photo of David and Uchitel, where it looked like she was sitting in his lap, making a kissy-face. At the time I wrote it up, I had no idea who Uchitel was, and I really didn't think I would ever hear that name again. Just a few short weeks later, Uchitel's name came up again – this time as the first-publicized mistress of Tiger Woods.
There were some sketchy stories that Uchitel had called off her affair with Boreanaz so that she could nail the bigger catch – Tiger. Ever since Uchitel's name became associated with Tiger, Boreanaz's name was rarely mentioned, but I do remember that Radar once referred to her as "David Boreanaz's former mistress". Boreanaz never confirmed or denied the affair rumors, and later Star Magazine reported that David's wife Jamie decided to forgive his indiscretion, even though David was allegedly cheating on Jamie when she was pregnant with their daughter.
I bring this all up because Boreanaz is doing some interviews to promote the 100th episode of Bones, and the upcoming eight new Bones episodes in a row (after no new episodes for like two months). David sat down with Us Weekly for a "25 Things You Don't Know About" feature, and there's still no mention of Uchitel or anything. But it is interesting.
1. My first car was a white Yugo. I tipped it over more than once.
2. I was a ball boy for the Pittsburgh Steelers in high school.
3. I used to sneak into studios, circa '91, in a suit and pretend I was an executive while passing out résumés.
4. When I was a little boy, my older sisters told me if I didn't behave, the childservices woman would come take me away. And our babysitter dressed up as an old lady and came to the door to get me "as a joke."
5. I was a Deadhead in college.
6. On spring break in college, I did backflips into shark-infested waters. Yes, I was drunk and stupid.
7. In college, I used to tell bouncers I was Ted Danson's son. I always got into the bar.
8. I play ice hockey.
9. I'm always on time, meaning I'm early.
10. My favorite meals to cook: anything Italian and on the grill.
11. I once drove an NYC cab for two blocks.
12. I want to bottle my own wine.
13. I once sold gourmet food door to door, until I locked the keys in the truck after my first sale. Job lasted a week.
14. I used to be a towel boy at a Plush Gym. Job lasted two weeks.
15. I only wear Paul Smith socks.
16. I first met Martin Scorsese while I was parking cars at a hotel.
17. I'm married to the most beautiful woman in the world, inside and out. She completes me.
18. It's pure heaven to watch my 7-year-old son and 7-month-old daughter sleep.
19. I have two older sisters: One is a teacher, the other is an artist.
20. My dad and I once drove cross-country and started every morning looking for pancakes!
21. My family reminds me that life is all about laughter, love and humor.
22. When I moved to L.A., I slept on a couch in a downtown loft for a while.
23. Best concert ever: Led Zeppelin's 2007 reunion at London's O2 Arena.
24. I love antiques, watches and old cars.
25. I read magazines back to front.
[From Us Weekly]
I want to fall back in love with him, but I kind of think he really was bangin' Uchitel. Ugh. Which makes him a pig with really horrible taste in mistresses. But I can still enjoy him on Bones, right? Doesn't it seem like this season they started off strong, like they were really going to do something interesting with the Bones and Booth potential romance, and then nothing? With some shows, I think having the two leads get together is a bad idea (like, say, Christopher Meloni and Mariska Hargitay on Law & Order: SVU). But for Bones and Booth, they need to have sex at least once. Just to see what it's like. I don't see how those two characters could avoid it. Oh, and I think Angela and Hodgins are going to get back together, get married and have a baby really soon, but I hope there not too much of that this season. I get tired of their bullsh-t.
Sidenote: I saw that a lot of you think David should play Joe Morelli in the Stephanie Plum movie, One for the Money. I had never even thought about him, but he would be good!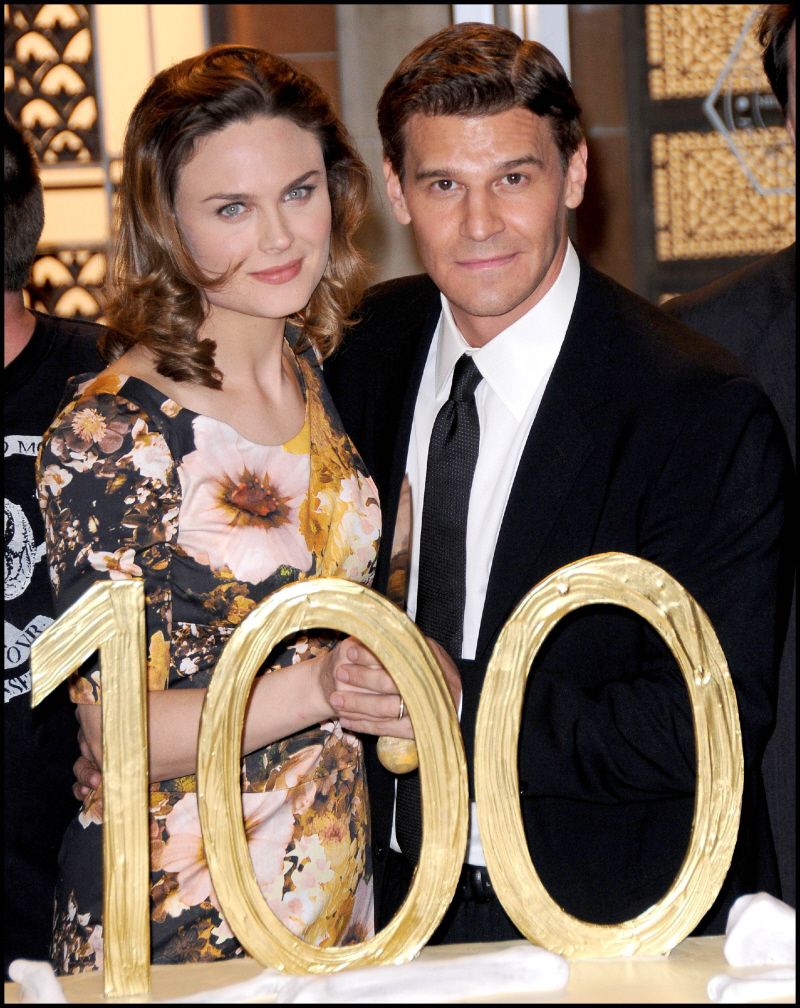 David Boreanaz and Emily Deschanel at the party for the 100th episode on January 26, 2010. Credit: WENN.