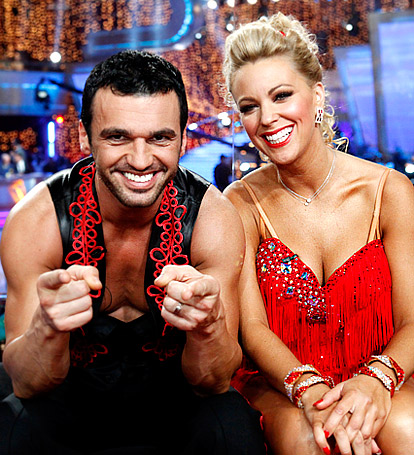 Kate Gosselin is still on Dancing with The Stars despite, or perhaps because of, the fact that she's an insufferable harpy with two left feet. Earlier this week we saw footage of Kate arguing with her partner, Tony Dovolani, who got fed up with Kate's whining and constant complaining during rehearsal and walked out, saying he quit. Dovolani eventually came back and Kate later compared the process of getting along with her dancer instructor to communicating in marriage. Then we heard that Kate disliked Tony so much she tried to get him fired. How did this woman ever hold down a job where she had a supervisor? Is she capable of taking direction at all, or is she so determined to be the one in charge that she'll berate, nitpick and scheme in order to call the shots even when she has no idea what she's doing?
Kate knows why she's famous and she knows that people aren't voting for her because she can dance at all. She's famous for splitting with her lazy cheating husband and she's going to remind us of that next week on Dancing With The Stars. Kate says her dance will have a "Kate and Jon" theme next week and will tell "my story over the past two years." It doesn't matter if she's successful at conveying marital discord and the emasculation of her male partner. All she has to do is get people talking about her and voting for her to come back and flail around some more:
While Jon himself is not actually going to grace the DWTS stage, we will be getting the next best (or worst?) thing: a Jon-and-Kate-themed dance for week three! Tony will be channeling Jon G. (lucky Jon!) as Kate portrays herself (who else?) in next week's storytelling assignment.

Let that sink in for a moment: Kate will be transforming her recent tabloid troubles into a high-stepping dance routine.

"It's my story over the past two years," Kate tells us of the dance. "We're very, very excited."

And there's only one word to describe such a dance.

"Dramatic," says Kate. To which Tony replies, "Lots of drama." To which Kate adds a little more emphasis with an, "Oh my gosh, so much drama."

Whew! So listen, guys, we think it's going to be dramatic in case you missed the memo.

We kid, because clearly you DWTS fans either (a) love Kate and don't want to see her leave the show or (b) love watching Kate humiliate herself on national TV and don't want to see her leave the show, because she and Tony managed to stick around after some pretty dire scores.

"My dancing has a lot of work to do, and I'm the first to admit it. I'm not a quitter, I won't quit on this. I want to finish the dance," so says Kate. "The frustrating thing for me is I can do it so well in practice that even I'm like, Wow! Did I just do that? Then I come out here and I'm like, Whaaa!"
[From E! Online]
Life & Style has a related story about Kate trying to glom on to fellow contestant Pamela Anderson, who is said to be annoyed with Kate and "laughing at her behind her back."
The ballroom is turning into a battleground for superstar Pamela Anderson and reality-TV mom Kate Gosselin on Dancing With the Stars! "Pam can't stand Kate," a show insider reveals to Life & Style. "Kate's like a little dog around her, latching onto her." The reason? Apparently Kate thinks aligning herself with Pam will give her more exposure, says the insider: "Kate thinks it will help her career, so she's trying to be all palsy-walsy with Pam. Kate thinks they have a lot in common because their private lives have been fodder for years and they've both had reality shows. But Pam's laughing at her behind her back."
[From Life & Style, received via e-mail]
So Kate is both shoving her tabloid mess into our faces while trying to suck up to Pamela Anderson behind the scenes. Anderson was in the bottom two last week and she can only work the half-dressed hoochie mama angle for so long. By working her "drama" Kate might be the one who's laughing at the end.